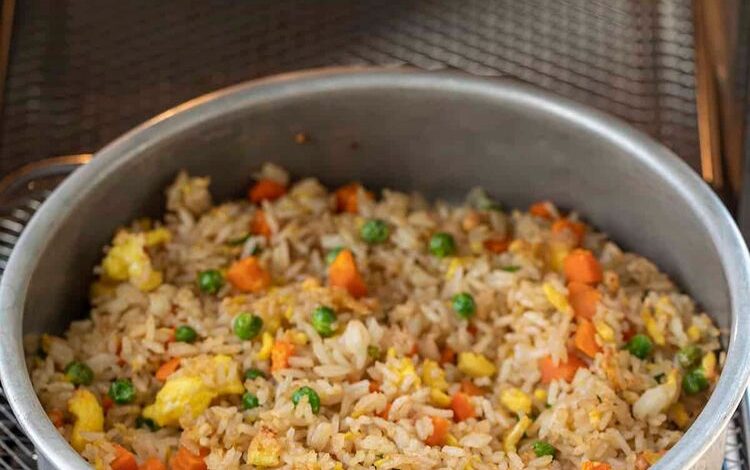 Ingredients:
2 cups of cooked and cooled rice (leftover rice works best).
1 cup of mixed vegetables (peas, carrots, bell peppers, corn, etc.).
1/2 cup of diced onion.
2 cloves of garlic, minced.
2 eggs, beaten.
2 tablespoons of vegetable oil.
2-3 tablespoons of soy sauce (adjust to taste).
1/2 teaspoon of sesame oil (optional, for flavor).
Salt and pepper to taste.
Chopped green onions or cilantro for garnish (optional).
Instructions:
Preheat your air fryer to 350-375°F (175-190°C).
In a large bowl, break apart the cold, cooked rice to separate the grains. This helps prevent clumping when cooking.
In a large skillet or frying pan, heat the vegetable oil over medium-high heat. Add the diced onions and cook for a few minutes until they become translucent.
Add the minced garlic and cook for another 30 seconds, or until it becomes fragrant.
Push the onions and garlic to one side of the pan and pour the beaten eggs into the other side. Scramble the eggs and cook until they are just set.
Add the mixed vegetables to the pan and stir-fry for a few minutes until they begin to soften.
Add the cooked rice to the pan and stir-fry everything together. Season with soy sauce, sesame oil (if using), salt, and pepper. Continue to stir-fry until the rice is heated through and well-coated with the sauce.
Transfer the fried rice to the air fryer basket. Spread it out evenly to ensure even cooking.
Air fry the fried rice at 350-375°F (175-190°C) for 10-15 minutes, shaking or stirring the rice every 5 minutes to ensure even crisping. The exact cooking time may vary depending on your air fryer model, so keep an eye on it.
Once the fried rice is crispy and heated through, remove it from the air fryer and serve immediately. Garnish with chopped green onions or cilantro, if desired.