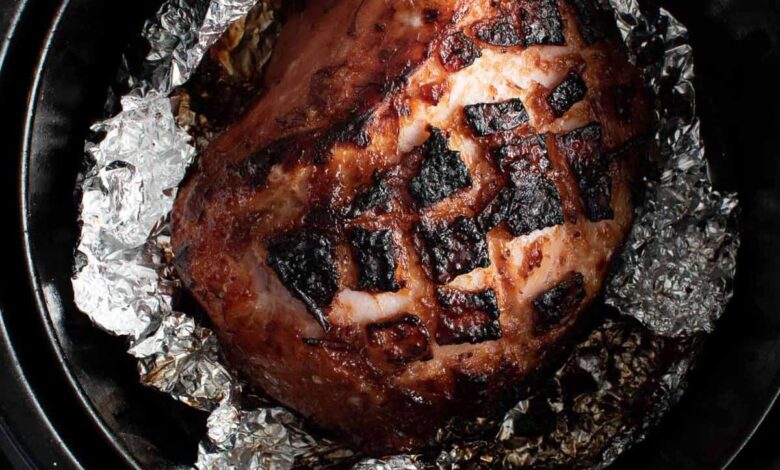 This fail-proof Air Fryer Ham is easy to make and comes out tender & moist every time!
Ingredients
▢1 small fully cooked ham about 3 pounds
Glaze
▢2 tablespoons brown sugar
▢1 tablespoon honey
▢1 tablespoon orange juice or pineapple juice
▢1 teaspoon dry mustard
Instructions
Preheat air fryer to 320°F.
Wrap ham in foil, ensuring that the seam is at the top so it can be opened.
Place the wrapped ham in the air fryer and cook 25 minutes.
While ham is cooking, combine glaze ingredients.
After 25 minutes, unwrap the ham and drizzle glaze over top.
Place back in the air fryer (close seam again) and cook an additional 10-15 minutes or until ham reaches 135-140°F.
Fold the foil down and cook the ham an additional 5-10 minutes or unti the glaze is browned and the ham reaches 145°F. Rest 10 minutes before serving.
Notes
No Air Fryer? No Problem!  We use this recipe to bake ham in the oven. It can also be cooked in a slow cooker.
If your ham is too tall to fit into your air fryer, it can be sliced before wrapping in foil. If slicing the ham before cooking, you may need to reduce cook time.