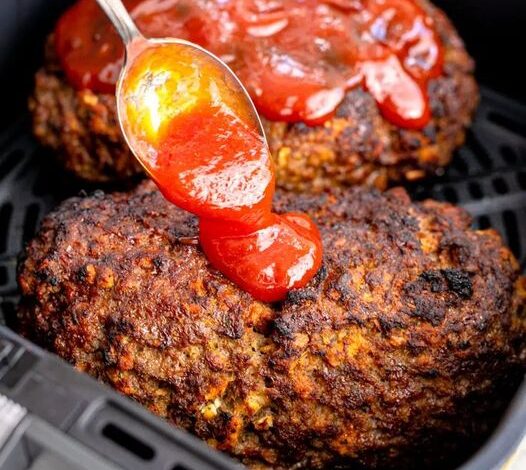 Ingredients:
1 pound ground beef (you can also use a mix of ground beef and ground pork or ground turkey)
1/2 cup breadcrumbs (panko or regular breadcrumbs work)
1/4 cup finely chopped onion
1/4 cup finely chopped bell pepper (red or green)
1/4 cup finely chopped celery
1/4 cup milk
1 egg
1/4 cup ketchup or barbecue sauce
1 tablespoon Worcestershire sauce
1 teaspoon salt
1/2 teaspoon black pepper
1/2 teaspoon garlic powder
1/2 teaspoon onion powder
Instructions:
In a large mixing bowl, combine the ground meat, breadcrumbs, finely chopped onion, bell pepper, and celery.
In a separate bowl, whisk together the milk and egg. Then add the ketchup or barbecue sauce, Worcestershire sauce, salt, black pepper, garlic powder, and onion powder. Mix well.
Pour the wet mixture into the bowl with the meat and breadcrumbs. Mix everything together until it's well combined, but try not to overmix, as that can make the meatloaf tough.
Shape the mixture into a loaf shape that will fit comfortably inside your air fryer basket. You may need to adjust the size and shape depending on your specific air fryer model.
Preheat your air fryer to 350°F (175°C).
Place the meatloaf in the preheated air fryer basket. Cook for approximately 25-30 minutes at 350°F. Cooking times may vary depending on your specific air fryer, so it's a good idea to check the internal temperature of the meatloaf using a meat thermometer. The meatloaf is done when it reaches an internal temperature of 160°F (71°C).
Optional: During the last 5-10 minutes of cooking, you can brush the top of the meatloaf with additional ketchup or barbecue sauce for extra flavor.
Once the meatloaf is cooked through, remove it from the air fryer and let it rest for a few minutes before slicing and serving.