Soul Food
Bacon sausage and cheese egg pancake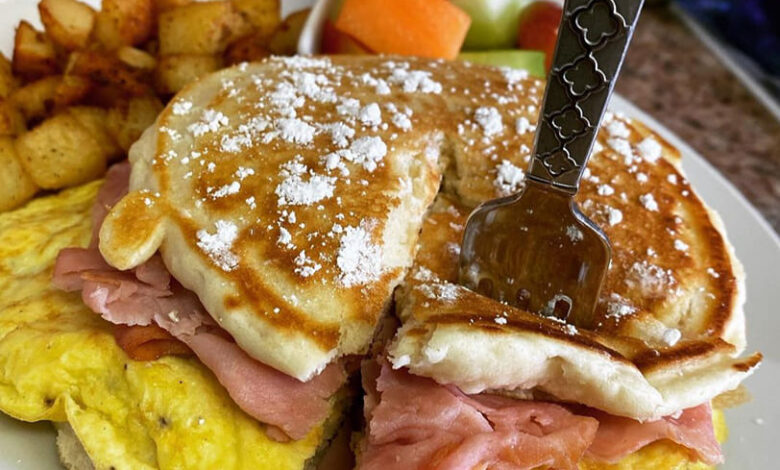 Ingredients:
6 slices of bacon, cooked and crumbled
4 sausages, cooked and crumbled
1 cup shredded cheddar cheese
6 large eggs
1/2 cup milk
1/4 teaspoon salt
1/4 teaspoon black pepper
1/4 teaspoon garlic powder
1/4 teaspoon onion powder
2 green onions, chopped (optional)
Cooking oil or butter for greasing
Instructions:
In a large bowl, whisk together the eggs, milk, salt, black pepper, garlic powder, and onion powder until well combined. Stir in the chopped green onions if using.
In a separate pan, cook the bacon until crispy, then transfer it to a paper towel-lined plate to drain excess grease. Crumble the bacon into small pieces.
In the same pan, cook the sausages until browned and cooked through. Remove them from the pan and crumble them into small pieces as well.
Preheat a large non-stick skillet or griddle over medium heat. Grease the skillet with cooking oil or butter.
Pour a ladleful of the egg mixture onto the skillet, spreading it out into a round shape. Repeat to make additional pancakes, leaving some space between each.
Sprinkle the crumbled bacon, sausage, and shredded cheddar cheese evenly over each pancake.
Cook the pancakes for about 3-4 minutes, or until the edges are set and the bottom is golden brown. Carefully flip each pancake and cook for an additional 2-3 minutes, or until the other side is cooked through and the cheese is melted.
Remove the pancakes from the skillet and keep them warm. Repeat the process with the remaining batter and toppings.
Serve the bacon, sausage, and cheese egg pancakes warm. They can be enjoyed as a hearty breakfast or brunch option, and are especially delicious when served with maple syrup or hot sauce.
. Enjoy.