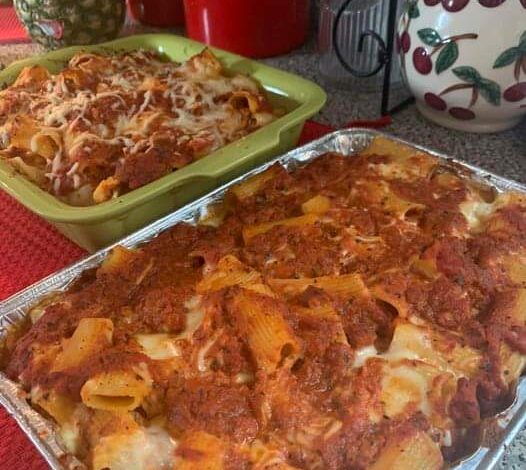 Ingredients
• 1 pound rigatoni
• 1 pound ground Italian sausage
• 1 pound 90/10 ground beef
• 1 cup diced yellow onion
• 4 garlic cloves, minced
• 1 (24 ounce) jar marinara sauce or homemade
• 1 (24 ounce) can crushed tomatoes
• 1 teaspoon kosher salt
• 1 tablespoon Italian seasoning
• 4 tablespoons salted butter
• 3 cups grated mozzarella cheese
• minced parsley, for serving
Method
• Preheat the oven to 350°F with a rack in the center position.
• Heat a large pot of water to a boil over high heat and salt it. Add the rigatoni and cook, al dente, according to the package instructions. Drain and set aside.
• Meanwhile, in a large pot or dutch oven, set over medium high heat, add the sausage, ground beef, onions and garlic, cook, breaking up the meat with a wooden spoon, until the meat is cooked through and onions are softened, about 10 minutes.
• Add the marinara, crushed tomatoes, salt, Italian seasoning and butter to the pot and cook, stirring often, until butter is melted and sauce is fully combined with the meat, about 3 minutes.
• Add the rigatoni to the sauce and stir to combine.
• Transfer the pasta and meat sauce to a 9×13 baking dish. Sprinkle the top of the pasta with mozzarella, cover with aluminum foil and bake in the oven for 25 minutes. Remove the baking dish from the oven, uncover and transfer back to the oven for another 10-15 minutes or until the cheese is lightly browned and the sauce is bubbling.
• Let stand for 5-10 minutes. Serve sprinkled with