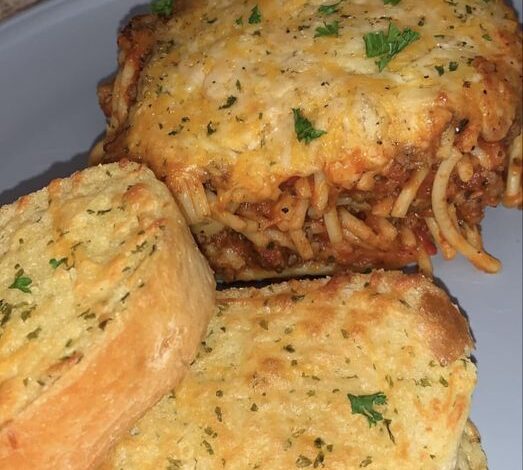 Baked Spaghetti:
Ingredients:
1 pound spaghetti
1 pound ground beef
1 small onion, diced
2 cloves garlic, minced
1 can (28 ounces) crushed tomatoes
1 can (15 ounces) tomato sauce
1/2 cup water
2 teaspoons dried basil
2 teaspoons dried oregano
1 teaspoon sugar
Salt and black pepper to taste
2 cups shredded mozzarella cheese
1/4 cup grated Parmesan cheese
Fresh basil leaves, for garnish (optional)
Instructions:
Preheat the oven to 350°F (175°C). Grease a 9×13-inch baking dish.
Cook the spaghetti according to the package instructions until al dente. Drain and set aside.
In a large skillet, cook the ground beef over medium heat until browned. Add the diced onion and minced garlic and cook until the onion is translucent.
Add the crushed tomatoes, tomato sauce, water, dried basil, dried oregano, sugar, salt, and black pepper to the skillet. Stir well to combine. Let the sauce simmer for about 10 minutes to allow the flavors to meld together.
Add the cooked spaghetti to the skillet with the sauce and toss until the spaghetti is coated evenly.
Transfer the spaghetti mixture to the prepared baking dish. Sprinkle the shredded mozzarella cheese and grated Parmesan cheese over the top.
Cover the baking dish with foil and bake for 25 minutes. Then, remove the foil and bake for an additional 10 minutes, or until the cheese is melted and bubbly.
Garnish with fresh basil leaves, if desired, before serving.
Garlic Bread:
Ingredients:
1 loaf French bread or Italian bread
1/2 cup unsalted butter, softened
4 cloves garlic, minced
2 tablespoons chopped fresh parsley
Salt to taste
Instructions:
Preheat the oven to 375°F (190°C).
Slice the loaf of bread in half lengthwise.
In a small bowl, combine the softened butter, minced garlic, chopped parsley, and salt. Mix well until all the ingredients are evenly incorporated.
Spread the garlic butter mixture evenly over the cut sides of the bread.
Place the garlic bread on a baking sheet and bake for about 12-15 minutes, or until the bread is golden brown and crispy.
Remove from the oven and let it cool for a few minutes before slicing into individual portions.
Serve the baked spaghetti with a side of garlic bread for a hearty and satisfying soul food meal. EnjoY