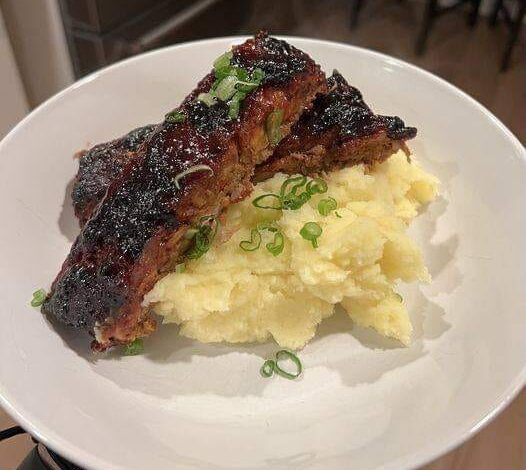 Ingridient
1 lb plant-based ground meat (I used Impossible)
2 20 oz. can jackfruit drained + hard parts removed + pulled
2 cloves fresh garlic minced (optional)
1 tbsp brown sugar
1½ tsp smoked paprica
salt to taste
black pepper to taste
1 tsp liquid smoke
rib rub seasoning blend of choice to taste. I used TJs
BBQ Sauce of choice to taste (¼-½ cup)
Just add everything but the BBQ inside a bowl, no right order, add more spices if your heart feel like it, I added some mushroom powder but please don't skip the liquid smoke. Remember, the jackfruit will give the meat the texture, so take some time to pull it apart.
Shape it how you want it, ribs are one of the foods that has an emotional connection for my family, so I shaped like ribs, with the cuts and all. Once you shape it, add the barbecue outside and put in the oven for 20min at 400. After that, add more barbecue or not, again, go with your heart. I added more barbecue and left it inside the oven for more 15 minutes just to create this almost burned/caramelized sugar outside.
I made mashed potatoes, but you can make mac and cheese, or eat it with salad.