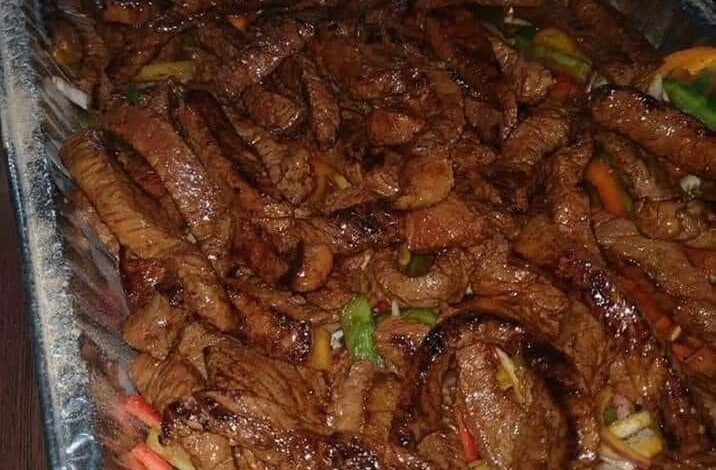 Ingredients:
1 ½ pounds flank steak, thinly sliced against the grain
1 red bell pepper, sliced
1 green bell pepper, sliced
1 yellow bell pepper, sliced
1 large onion, sliced
3 cloves garlic, minced
2 tablespoons olive oil
Juice of 2 limes
2 tablespoons soy sauce
1 tablespoon brown sugar
1 teaspoon chili powder
1 teaspoon cumin
1 teaspoon smoked paprika
1 teaspoon garlic powder
1 teaspoon onion powder
1/2 teaspoon black pepper
1/2 teaspoon salt
Flour tortillas, for serving
Sour cream, guacamole, shredded cheese, and salsa, for serving
Instructions:
In a large mixing bowl, combine the lime juice, soy sauce, brown sugar, chili powder, cumin, smoked paprika, garlic powder, onion powder, black pepper, and salt. Whisk well to make the marinade.
Add the thinly sliced flank steak to the marinade and toss to coat. Let it marinate for at least 30 minutes, or refrigerate overnight for even more flavor.
Heat one tablespoon of olive oil in a large skillet or cast-iron pan over medium-high heat. Add the marinated steak slices and cook for about 2-3 minutes per side, until nicely browned and cooked to your desired doneness. Remove the steak from the pan and set it aside.
In the same skillet, add another tablespoon of olive oil. Add the sliced bell peppers, onion, and minced garlic. Sauté for about 5-6 minutes until the vegetables are tender and slightly caramelized.
Return the cooked steak to the skillet with the peppers and onions. Stir everything together and cook for an additional minute to heat through.
Warm the flour tortillas in a separate dry skillet or in the oven.
Serve the steak fajitas hot, allowing everyone to assemble their own fajitas. Provide sour cream, guacamole, shredded cheese, and salsa as toppings.
These soul food-inspired steak fajitas are flavorful and satisfying. Enjoy them with your favorite side dishes like rice and beans or coleslaw for a complete meal.