BREADED MUSHROOMS IN AIR FRYER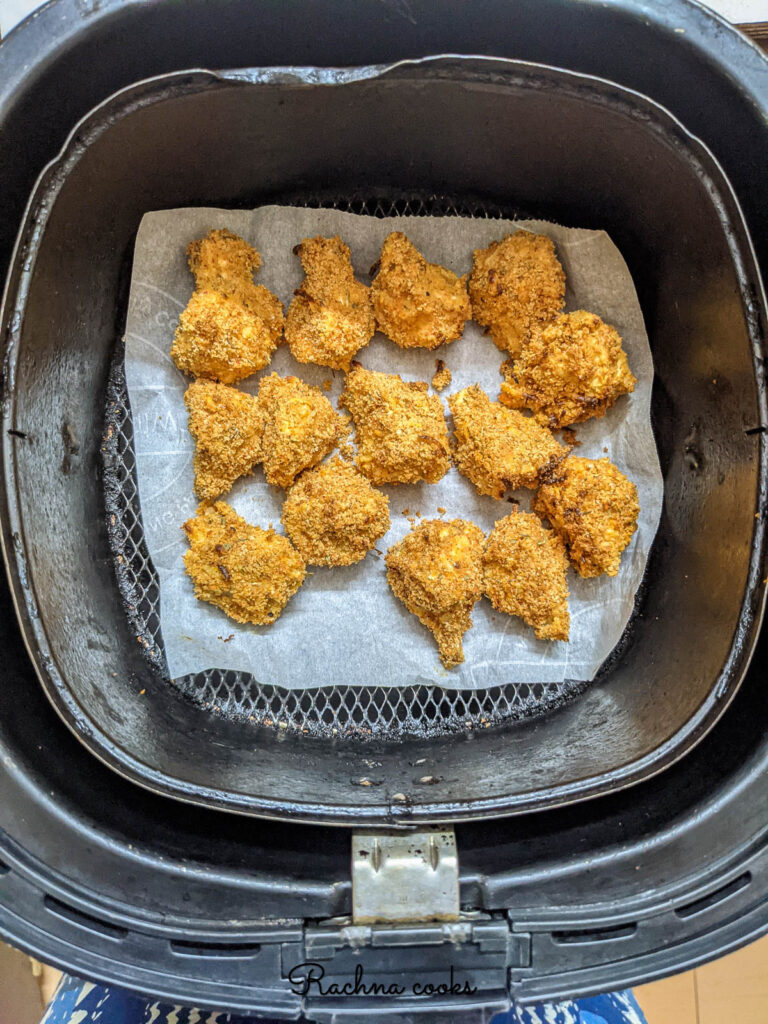 COURSE
Accompaniment | Appetizer, Side Dish
EQUIPMENT
INGREDIENTS
 

oz.

 

mushrooms or about 200 gm.

½

 

cup

 

Greek yogurt

 

or plant-based yogurt try cashew or soy yogurt
Breading
1

 

cup

 

breadcrumbs

½

 

cup

 

grated cheese

 

or vegan cheese

1

 

tsp.

 

cayenne or paprika

1

 

tsp.

 

pepper

Salt to taste

1

 

tsp.

 

garlic powder

1

 

tsp.

 

Italian seasoning

¼

 

tsp.

 

turmeric powder

1

 

tsp.

 

olive oil to spray
INSTRUCTIONS
Remove the dirt and wipe the mushrooms clean with a damp cloth. Quarter them. Choose fresh mushrooms.

Beat Greek yogurt or plant-based yogurt and spread on a plate. Coat the cut mushrooms in the yogurt to cover well. This helps with helping the outer coating adhere to the mushrooms.

Mix together breadcrumbs, grated cheese or vegan cheese, cayenne or paprika, Italian seasoning, salt, pepper and turmeric powder in a shallow plate.

I needed to do mine in 2 batches. I used parchment paper for easier cleanup. Do not use parchment paper while preheating. Always use it with food on top.

Now dunk the yogurt dipped mushrooms in the breading mix. Use your hands to press down the breading so that it sticks to the mushrooms.

Preheat air fryer at 390 F or 200 C for 3 minutes.

Lay the prepared breaded mushrooms on the parchment paper in air fryer basket. Spray olive oil on top. Air fry at 200 C for 4-5 minutes till golden brown and done.

The time may vary depending upon the size of your mushrooms and the model of your air fryer. I use Philips air fryer.

The mushrooms will be very hot so wait for them to cool down a bit before eating.

Serve hot with ketchup, spicy mayo or a dip of your choice.
NOTES
1. Always use fresh mushrooms. Button mushroom work well. Do not wash them. Just brush off the dirt and wipe with a damp cloth. 2. You can use 2 beaten eggs in place of yogurt if you like. 3. This recipe is vegetarian and I have also tried the vegan options of plant-based yogurt and vegan cheese in the recipe successfully. 4. You can use panko for a crunchier breading. 5. Cutting mushroom in quarters helps them cook faster and also makes them more flavorful. 6. Canned mushroom may not work for this recipe as they retain a lot of moisture and the breading will get soggy.
NUTRITION
Calories: 
206
kcal
Carbohydrates: 
26
g
Protein: 
12
g
Fat: 
7
g
Saturated Fat: 
3
g
Polyunsaturated Fat: 
1
g
Monounsaturated Fat: 
2
g
Trans Fat: 
1
g
Cholesterol: 
16
mg
Sodium: 
299
mg
Potassium: 
362
mg
Fiber: 
3
g
Sugar: 
4
g
Vitamin A: 
683
IU
Vitamin C: 
2
mg
Calcium: 
209
mg
Iron: 
3
mg