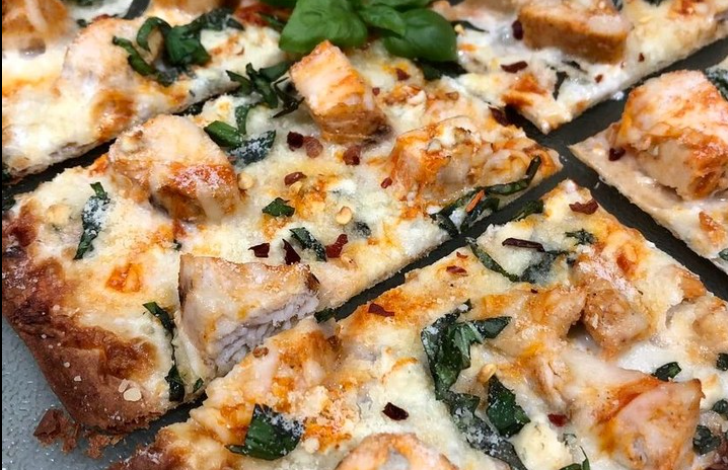 Ingredients:
For the Pizza Dough:
1 pound (16 oz) pizza dough (store-bought or homemade)
Flour (for dusting)
For the Buffalo Chicken Topping:
1 cup cooked and shredded chicken breast
1/2 cup buffalo sauce (adjust to your spice preference)
1/4 cup ranch dressing
1/4 cup crumbled blue cheese (optional)
1/2 cup shredded mozzarella cheese
For the Bacon Ranch Drizzle:
1/4 cup ranch dressing
2-3 strips of cooked bacon, crumbled
For Garnish:
Chopped green onions or chives
Instructions:
Preheat the Oven:

Preheat your oven to the temperature recommended on the pizza dough packaging or if you're using homemade dough, typically around 450°F (230°C).

Prepare the Buffalo Chicken Topping:

In a bowl, combine the shredded chicken with the buffalo sauce and ranch dressing. Mix well to coat the chicken evenly.

Roll Out the Dough:

On a lightly floured surface, roll out the pizza dough to your desired thickness.

Assemble the Pizza:

Place the rolled-out dough onto a pizza stone or a baking sheet lined with parchment paper.
Spread the buffalo chicken mixture evenly over the pizza dough.

Add Cheese:

Sprinkle the shredded mozzarella cheese over the buffalo chicken mixture. If you like, you can also add crumbled blue cheese for an extra kick.

Bake:

Place the pizza in the preheated oven and bake according to the instructions for your pizza dough, usually around 12-15 minutes, or until the crust is golden and the cheese is bubbly and slightly browned.

Prepare the Bacon Ranch Drizzle:

While the pizza is baking, mix 1/4 cup of ranch dressing with the crumbled bacon.

Finish and Garnish:

Once the pizza is out of the oven, drizzle the bacon ranch mixture over the top.

Garnish:

Sprinkle chopped green onions or chives over the pizza for added color and flavor.

Slice and Serve:

Allow the pizza to cool for a minute or two, then slice it into pieces and serve.
Enjoy your Buffalo Chicken Bacon Ranch Pizza! It's a perfect combination of spicy buffalo chicken, smoky bacon, and creamy ranch dressing on a crispy crust.