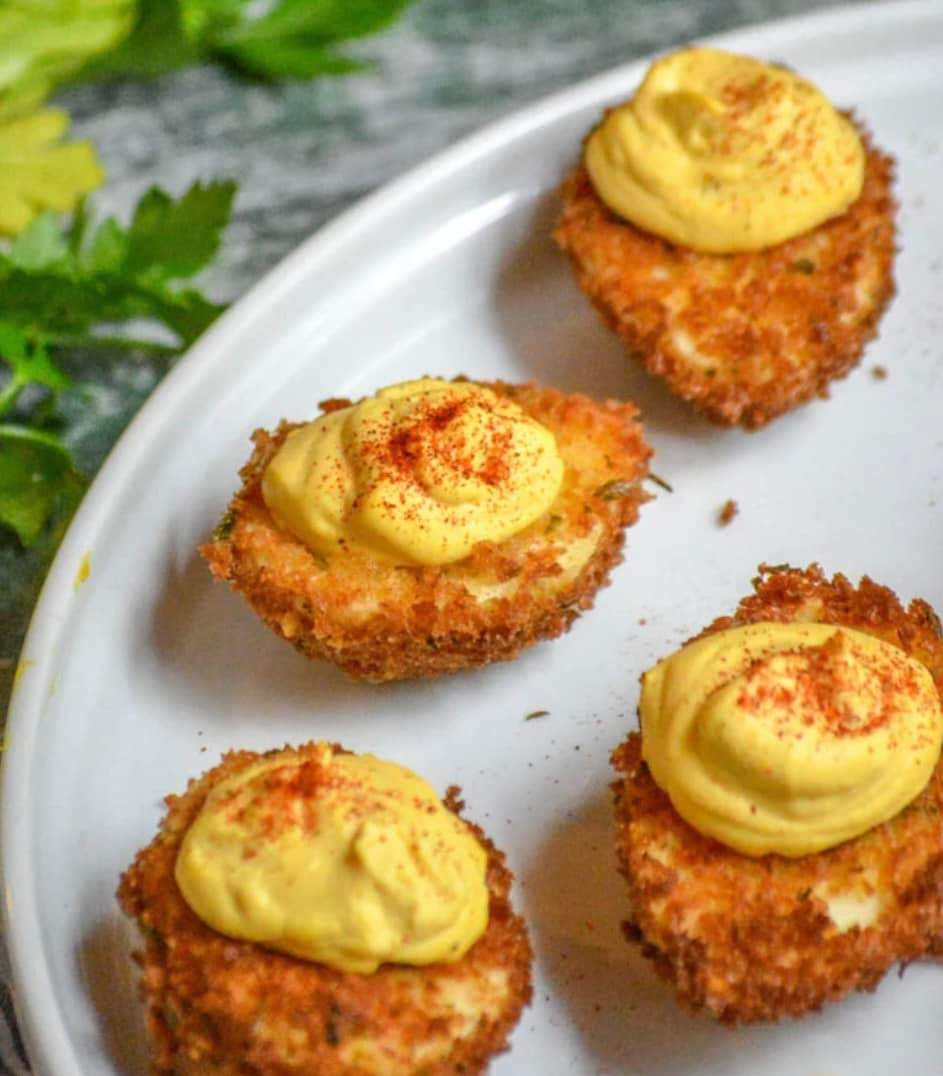 INGREDIENTS
For The Filling:
12 hard boiled eggs, peeled & halved lengthwise
2 tbsp mayonnaise
1 1/2 tbsp dill pickle relish
2 tsp yellow mustard
1- 1 1/2 tsp Cajun seasoning
2-3 dashes hot sauce
For The Breading:
1 1/2 cups flour
2 large eggs, beaten
2 cups Panko bread crumbs
2 1/2 tsp gumbo file powder
salt & pepper, to taste
DIRECTIONS
1. Hard boil eggs. Once cooked, separate the yolks from the eggs, transferring the yolks to a medium sized mixing bowl. Stir in the mayonnaise, relish, mustard, Cajun seasoning and hot sauce. whisk everything together until evenly combined and smooth. Cover, and refrigerate until ready to use.
2. To a separate medium mixing bowl, add the Panko bread crumbs, the gumbo file powder, and the salt & pepper. Toss together until evenly incorporated.
3. Coat the egg whites in flour, shaking off any excess. Dunk them in the beaten eggs. Then coat them in the breading mixture, packing the crumbs-as necessary- to coat.
4. Fill a heavy bottomed pot with canola oil until it's 2-3 inches high. Heat until a thermometer reaches 350 degrees.
5. Add the egg whites, working in batches of 4, and fry for 2 minutes per side- or until they're golden brown and crispy. Remove them to a paper towel lined plate to drain any excess grease.
6. Repeat until all the egg whites are fried.
Dal-up the creamy yolk mixture into each fried egg.
7. Sprinkle them with a bit of smoked paprika, and serve.