Soul Food
Catfish fillet, Baked Potato and Broccoli with Parmesan cheese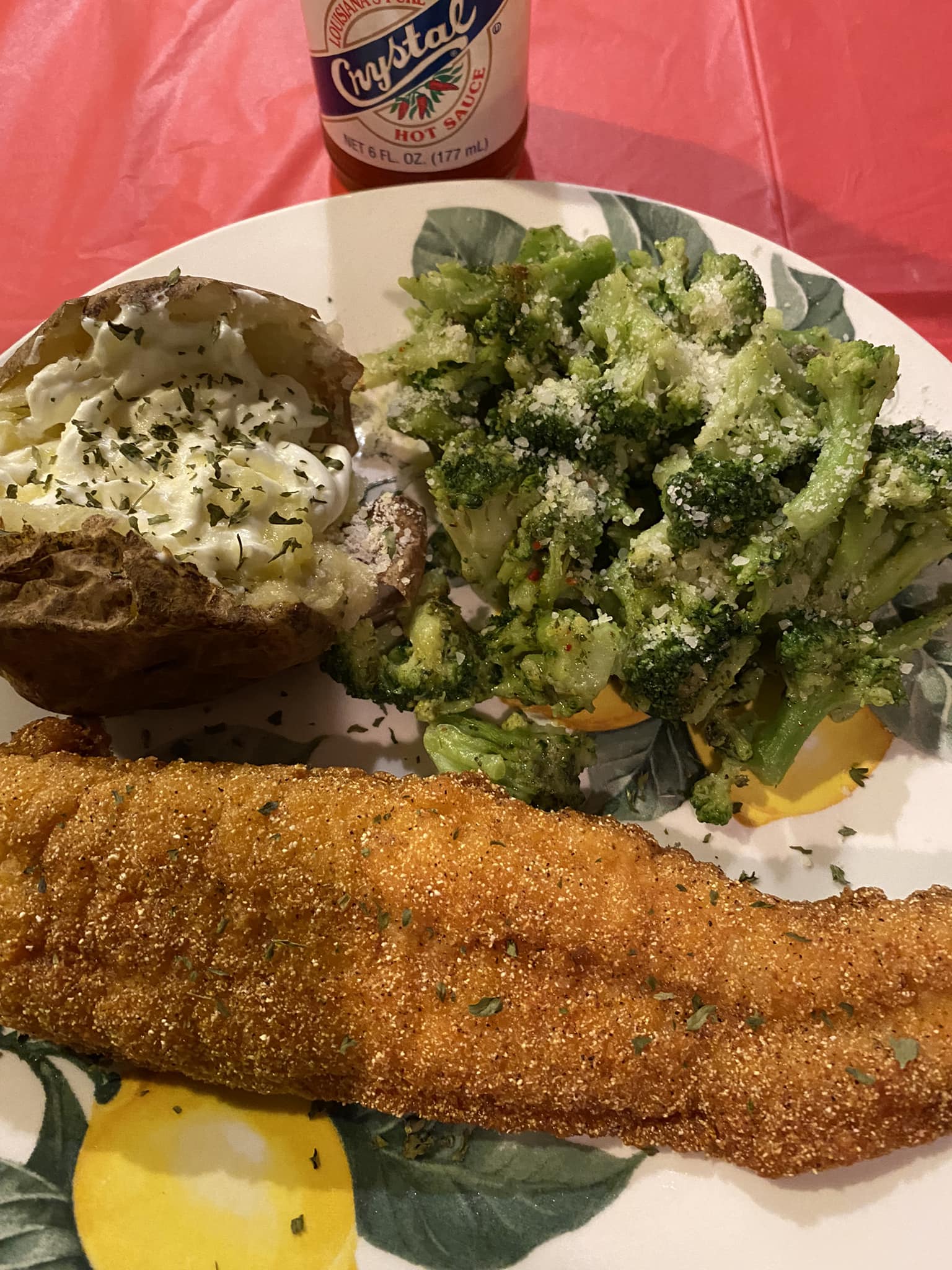 Ingredients:
For Catfish Fillet:
2 catfish fillets
1 cup buttermilk
1 cup cornmeal
1 teaspoon paprika
1/2 teaspoon garlic powder
1/2 teaspoon salt
1/4 teaspoon black pepper
Vegetable oil for frying
For Baked Potato:
2 large russet potatoes
Olive oil
Salt and pepper to taste
For Broccoli with Parmesan Cheese:
2 cups broccoli florets
2 tablespoons grated Parmesan cheese
Salt and pepper to taste
Instructions:
Preheat the oven to 400°F (200°C).
Catfish Fillet:

Place the catfish fillets in a shallow dish and pour the buttermilk over them. Let them marinate for about 15 minutes.
In a separate bowl, mix the cornmeal, paprika, garlic powder, salt, and black pepper.
Remove the catfish fillets from the buttermilk and dredge them in the cornmeal mixture, pressing gently to coat both sides.
Heat vegetable oil in a skillet over medium-high heat. Fry the catfish fillets for about 3-4 minutes on each side until golden brown and crispy. Remove from the skillet and place on paper towels to drain excess oil.

Baked Potato:

Wash and scrub the potatoes to remove any dirt. Pat them dry with a paper towel.
Rub the potatoes with olive oil, then sprinkle them with salt and pepper.
Place the potatoes directly on the oven rack and bake for about 45-60 minutes, or until the potatoes are tender when pierced with a fork.
Remove from the oven and let them cool for a few minutes before handling.

Broccoli with Parmesan Cheese:

Steam or blanch the broccoli florets until they are tender but still crisp. Drain any excess water.
Place the cooked broccoli in a serving dish and sprinkle with grated Parmesan cheese. Season with salt and pepper to taste.

Serve:

Place the crispy catfish fillets, baked potatoes, and broccoli with Parmesan cheese on separate plates.
You can serve the baked potato with your choice of toppings like sour cream, butter, or chives if desired.
Enjoy your soul food meal!
!