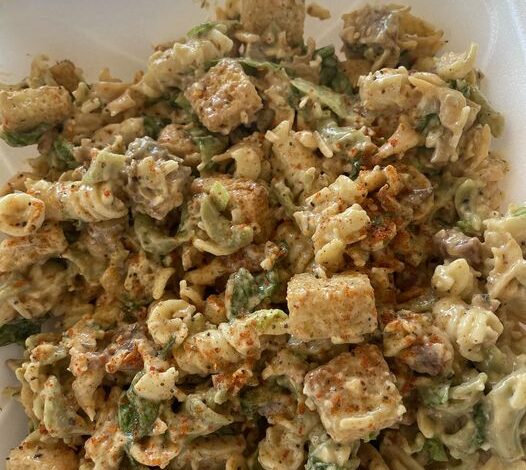 This Caesar Pasta Salad is as addictingly scrumptious as they come, make ahead friendly and will have everyone talking at potlucks, picnics and parties!  It's a hypnotic balance of tender pasta, fresh, crisp Romaine lettuce, crunchy croutons and rich, salty Parmesan all bathed in my WAY-better-than-store-bought, bright, tangy, garlicky, Caesar Dressing. Turn this salad into Chicken Caesar Pasta Salad with grilled chicken, rotisserie chicken, or my featured, downright swoon worthy Blackened Chicken that truly elevates this recipe to the best!
Ingredients
PASTA SALAD
16

 

oz.

 

bowtie/farfalle,

 

rotini, penne or other medium pasta

4

 

hearts of Romaine lettuce,

 

1-inch chop (6 cups)

1

 

pint

 

cherry tomatoes, halved

1

 

orange bell pepper, chopped

2

 

cups

 

croutons

½

 

cup

 

freshly shredded Parmesan cheese, 

more or less to taste
BLACKENED CHICKEN
2

 

large chicken breasts

2

 

tablespoons

 

unsalted butter

2

 

tablespoon

 

olive oil

1 ½

 

tsp EACH

 

smoked paprika, garlic powder, onion powder

1

 

tsp EACH

 

salt, dried oregano, dried thyme

1/2

 

teaspoon

 

pepper

1/4

–

1/2

 

teaspoon

 

cayenne pepper
Caesar Dressing (Or Store-bought)
8

 

whole anchovy fillets, blotted dry

 

(See notes for substitutions)

1

 

cup

 

sour cream

1/2

 

cup

 

mayonnaise

1/4

 

cup

 

lemon juice

2

 

teaspoons

 

Dijon mustard

2

 

teaspoons

 

balsamic vinegar

2

 

teaspoons

 

Worcestershire sauce

4

 

garlic cloves,

 

finely minced

1/2

 

tsp EACH

 

salt, pepper, plus more to taste

2/3

 

cup

 

finely, freshly grated Parmesan cheese (like powder)

milk as needed
Instructions
DRESSING
Mince the anchovies, then use the side of your knife to mash by pressing down and sliding the knife against the cutting board to form a paste.

Combine with the remaining dressing ingredients in a mixing bowl except the Parmesan; mix until smooth. Finally, stir in the Parmesan. Refrigerate until ready to use.
CHICKEN
Slice the chicken through the equator to create 4 fillets. Cover the fillets with plastic wrap and pound with a meat mallet, side of a can or rolling pin to an even thickness, about ½-inch.

Mix all of the seasonings together in a small bowl. Pat the chicken dry and lightly coat with olive oil. Season both sides of the chicken.

Melt 2 tablespoons butter in 2 tablespoons oil in a large, heavy bottom skillet over medium-high heat. Once hot, add chicken and cook for 4-5 minutes per side until blackened and cooked to 160 degrees on an instant read thermometer. Transfer chicken to a cutting board and wait at least 5 minutes before chopping.
PASTA SALAD
Cook pasta in salted water according to package directions just until al dente. (You can chop your salad ingredients while the pasta is cooking.) Drain, rinse with cold water and transfer to a very large servig bowl. Toss with a drizzle of olive oil to prevent the pasta from sticking together.

Add the chicken, tomatoes, bell pepper and half of the dressing, stir to evenly coat. Refrigerate pasta salad and remaining dressing separately until ready to use (best served the same day).

When ready to serve, add the chopped Romaine and croutons and toss with the remaining dressing. You may need to thin the dressing a little with a couple tablespoons of milk before using. Garnish the salad with freshly shredded Parmesan cheese. Season with plenty of freshly cracked pepper to taste. Dig in!
Notes
Tips and Tricks and substitutions
Use the homemade dressing – it's 1000X better than any store-bought variety!  I know it is extremely tempting to pick up a bottle of dressing, but I promise, nothing tastes as fresh and fabulous as your own Homemade Caesar Dressing – and it takes MINUTES to whisk together!
Chicken substitute: Use about 2 1/2 cups shredded rotisserie chicken, leftover chopped chicken or your favorite pan seared or grilled chicken.
Recipe variations: Try adding bacon (not needed if using the smoky blackened chicken), salami, avocados, eggs, corn, pepperoncini, olives, pickled jalapenos, etc.
Anchovies:  These are a key ingredient so please don't skip!  Anchovies are the key, umami rich ingredient that add saltiness and a savory, complex depth to this otherwise flat dressing without leaving it "fishy-tasting." The anchovies you want for this recipe are sold in cans packed in olive oil, usually located next to the tuna fish.
Leftover anchovies:  Store leftovers submerged in olive oil in an airtight container in the refrigerator for up to 2 months or frozen for 6 months. To use up the leftover anchovies, whip up a batch of Pasta Puttanesca, add them to pizza, Niçoise toasts, potato salad, etc.
Anchovy paste: Whole anchovies will impart the best flavor but you may substitute with 1 tablespoon anchovy paste if needed.  Anchovy paste is found in a tube next to the canned anchovies and tuna fish.
Anchovy substitute?  Nothing is as good as the real thing but here are some options to choose from: 1) increase the Worcestershire sauce to 2 tablespoons, 2) add 1 teaspoon fish sauce plus more taste, 3) add 2 tablespoons, minced and mashed capers.   Adjust any of these quantities as needed.
Vegan Caesar Dressing: Use vegan sour cream, vegan mayonnaise (like grapeseed oil Vegainase) vegan Worcestershire sauce, vegan Parmesan (try Whole Foods 365 or BelGioioso brands of Parmesan) and replace the anchovies with 2 tablespoons minced and mashed capers.
Gluten-free:  Use your favorite gluten-free medium pasta and gluten free croutons or make your own croutons with gluten free bread. You'll also want to pay attention to use gluten free Worcestershire sauce in the dressing.
Prep Ahead
This Chicken Caesar Pasta Salad can be assembled with the pasta, chicken, tomatoes, bell peppers and of half the dressing up to 24 hours ahead of time or you can prep the individual components further in advance and then wait to toss everything together:
Vegetables: Lettuce, tomatoes and bell peppers be chopped 24 hours in advance and stored in separate airtight containers in the refrigerator.
Croutons:  Can be made up to one week in advance and stored in an airtight container at room temperature.
Pasta: Can be made 48 hours in advance and stored in an airtight container in the refrigerator tossed with 2 tablespoons of olive oil.
Dressing: Can be made one week in advance and stored in an airtight container in the refrigerator.
Storage
Cover leftovers with plastic wrap or transfer to an airtight container. Store in the refrigerator for 3-4 days. The longer the pasta salad is refrigerated, the softer the croutons will become but the lettuce should mostly stay crispy. If your leftovers taste too dry, then toss with a drizzle of olive oil or leftover dressing if you have some.