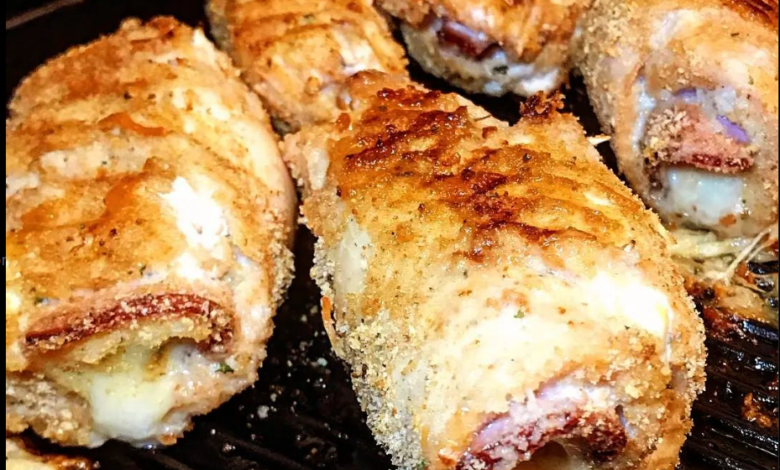 Ingredients:
For the chicken rolls:
4 boneless, skinless chicken breasts
Salt and pepper, to taste
4 slices of Swiss cheese
4 slices of ham
1/2 cup all-purpose flour
2 eggs, beaten
1 cup breadcrumbs
2 tablespoons butter, melted
For the sauce:
2 tablespoons butter
2 tablespoons all-purpose flour
1 cup milk
1/2 cup chicken broth
1 cup shredded Swiss cheese
Salt and pepper, to taste
Instructions:
Preheat your oven to 375°F (190°C) and grease a baking dish.
Place the chicken breasts between two sheets of plastic wrap or parchment paper. Use a meat mallet or rolling pin to gently pound them to an even thickness of about 1/2 inch.
Season both sides of the chicken breasts with salt and pepper.
Lay a slice of Swiss cheese and a slice of ham on top of each chicken breast.
Starting at one end, roll up the chicken, enclosing the cheese and ham. Secure the rolls with toothpicks.
Set up a breading station with three shallow dishes: one with flour, one with beaten eggs, and one with breadcrumbs.
Roll each chicken roll first in flour, then in the beaten eggs, and finally in the breadcrumbs, making sure to coat them thoroughly.
Place the coated chicken rolls seam-side down in the prepared baking dish.
Drizzle the melted butter over the top of the chicken rolls.
Bake in the preheated oven for about 25-30 minutes, or until the chicken is cooked through and the breadcrumbs are golden brown.
While the chicken is baking, prepare the sauce. In a saucepan, melt 2 tablespoons of butter over medium heat. Stir in 2 tablespoons of flour to create a roux. Cook for a minute or two, until the roux is lightly golden.
Gradually whisk in the milk and chicken broth, stirring constantly until the mixture thickens.
Reduce heat to low and stir in the shredded Swiss cheese until melted. Season with salt and pepper to taste.
Once the chicken rolls are done baking, remove the toothpicks and serve them with the cheese sauce drizzled over the top.
Enjoy your Chicken Cordon Bleu Roll-Ups! They pair well with steamed vegetables or a fresh salad.