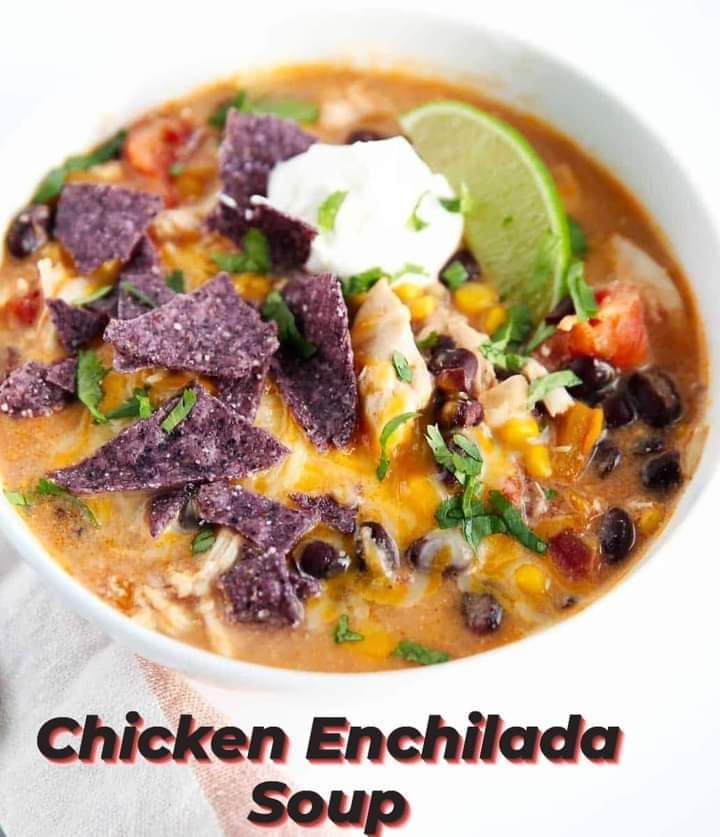 Ingredients
1 (10-ounce) can red enchilada sauce , or El Pato sauce
3-4 boneless, skinless chicken breasts
1 cup chicken broth , add an extra cup if you prefer a thinner soup
2 (15-ounce) cans black beans , rinsed and drained
1 (10-ounce) can Rotel tomatoes and green chiles
1 teaspoon cumin , more to taste
1 cup corn
½ cup chopped onion
½ cup chopped red bell pepper
½ teaspoon garlic powder , more to taste
½ teaspoon Kosher salt , more to taste
Ground black pepper , to taste
4-8 ounces cream cheese , at room temp (or can of cream of chicken soup)
½ cup shredded cheddar cheese , plus more if desired
For serving: Tortilla strips, Tortilla chips, Shredded cheese, Sour cream, Cilantro
Méthode
In the bottom of a 5-quart crockpot, add chicken. Pour the broth and enchilada sauce over the top. Add the black beans, tomatoes, corn, onion, and bell peppers. Stir in the cumin, garlic powder, salt, and pepper. Cover and cook on high 3 to 4 hours or low 5 to 7 hours.
Remove chicken and shred or cut into bite-sized pieces. Add in cream cheese or cream of chicken soup. Return the chicken to the crockpot. Add the shredded cheese. Cook on low 30 minutes.
Ladle into bowls. Top with tortilla strips or crushed tortilla chips, extra cheese, sour cream, and cilantro, if desired. Serve while hot.