Soul Food
CHINESE SALT AND PEPPER CHICKEN WINGS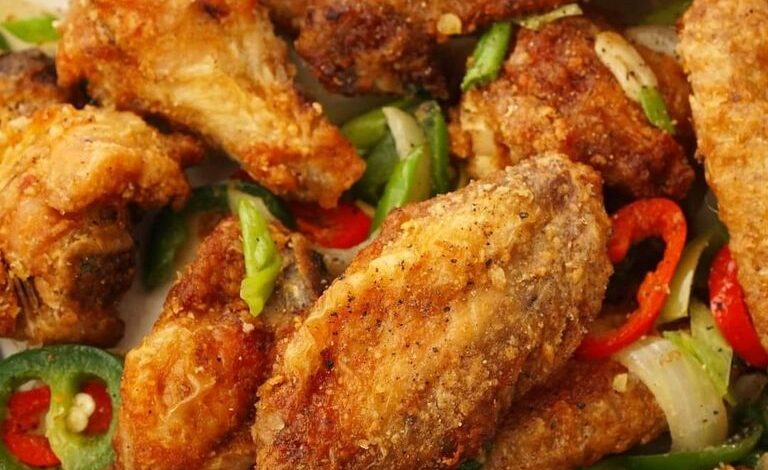 Ingredients
16 (~750g ) chicken wings wingettes and drumettes separated
neutral oil for deep frying
Marinade
¾ teaspoon sea salt
1 teaspoon white pepper
½ teaspoon freshly crushed black pepper
1 tablespoon all-purpose soy sauce
1 teaspoon rice vinegar
2 tablespoon chicken stock
2 cloves garlic grated
1 tablespoon ginger grated
Dredging Mixture
1 cup cornflour (cornstarch)
1 teaspoon white pepper
Stir Fry Topping
1 tablespoon olive oil
2-3 cloves garlic finely sliced
1 green chili diced
1 red chili diced
2 spring onions green and white part separately sliced
¼ teaspoon white pepper
pinch sea salt
Instructions
Add all the marinade ingredients to the chicken wings and mix well. Cover with the cling and for best results marinate overnight. Otherwise at least give 30 minutes for the flavours to gel together. You don't need to pat the chicken wings dry. The wetness will make cornflour stick better.
Mix white pepper into the cornflour for the dredging mixture. Coat each chicken piece with this mixture. Press firmly on both sides and make sure you do not leave any bald spots. Shake off excess and set aside.
Heat a pot of oil till it reaches 175°C (350°F) or when you put a chopstick/wooden skewer in bubbles appear around it. Make sure the oil is not very hot. On medium heat drop in the chicken wings in batches. Do not overcrowd the pan. Also let the wings crisp up from the bottom before touching or flipping them.
Fry the chicken for a total of 10-12 minutes until golden and crispy. Make sure you change sides after 5-6 minutes. When done, remove and drain on a wire rack and immediately sprinkle some sea salt and freshly crushed black pepper. Don't put them on a paper towel as it will make them soggy.
Heat olive oil in a pan. On medium heat, toast the sliced garlic until light golden. Then add in the chili and white part of spring onion. Stir fry for 1 minute.
Toss in the chicken wings on medium-high heat. Mix in the white pepper and pinch of sea salt. Finally add the green part of spring onion and turn off heat.
Remove on a plate and serve hot.
Notes
If you are using table salt, use a little less. It is more potent than sea salt.
Skip rice vinegar if you don't have any.
You can also make your own chicken stock by combining 2 tablespoon water with 2 teaspoon chicken powder or one-fourth chicken bouillon cube.
You can totally use boneless, skinless chicken breast or thigh instead of wings but the cooking time might vary.
Make sure you don't burn your aromatics, especially garlic otherwise everything will taste bitter.
Nutrition
Serving: 1serving | Calories: 555kcal | Carbohydrates: 33g | Protein: 2g | Fat: 46g | Saturated Fat: 4g | Polyunsaturated Fat: 12g | Monounsaturated Fat: 29g | Trans Fat: 0.2g | Cholesterol: 3mg | Sodium: 744mg | Potassium: 76mg | Fiber: 1g | Sugar: 1g | Vitamin A: 101IU | Vitamin C: 9mg | Calcium: 17mg | Iron: 1mg