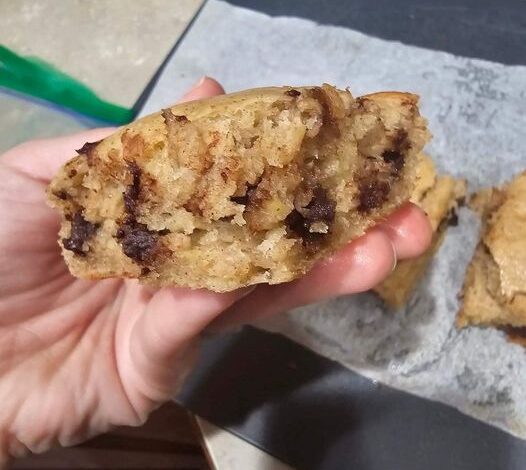 Chocolate Chip Banana Bars
Ingredients
Egg(s)
1 item(s) (large)
Banana(s)
2 medium
Darigold Fat free milk
2 Tbsp
I Can't Believe It's Not Butter! Light 30% vegetable oil spread
3 Tbsp
Volupta Erythritol & Monk Fruit Zero
Calorie Sweetener
1/3 cup(s)
Gold Medal Self rising flour
3/4 cup(s)
Lily's Chocolate salted caramel flavor
baking chips, no sugar added
4 oz
Kirkland Signature Pure Vanilla Extract
1 tsp
Ground cinnamon
1/2 tsp
Ground nutmeg
1/8 tsp
Instructions
Place a rack in the center of your oven and preheat the oven to 350 degrees F. Line an 8×8 inch baking pan with parchment paper so that the parchment overhangs two opposite sides like handles. Lightly coat with nonstick spray and set aside.
Mash the bananas in a mixing bowl. Stir in the substitute sugar, butter, milk, egg, and vanilla until well blended.
In a separate bowl, stir together the self rising flour, cinnamon, nutmeg, and salt. Add the dry ingredients to the bowl with the wet ingredients. With a spatula, stir to combine, stopping as soon as the flour disappears. Fold in 1/3 cup chocolate chips.
Scrape the batter into the prepared baking pan. (Optional: Sprinkle the 2 tablespoons chocolate chips on top.) Bake for 20-30 minutes, or until a toothpick inserted in the center comes out clean. Place the pan a wire rack to cool completely, then using the parchment handles, lift the bars onto a cutting board. Slice into 9 squares.
TO STORE: Store bars at room temperature for 3 days or in the refrigerator for 5 to 7 days