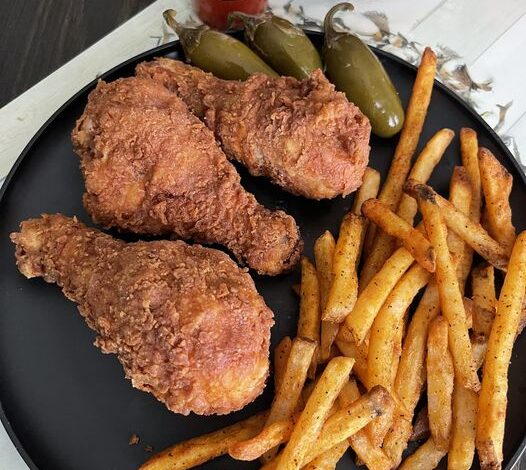 This classic recipe is made-from-scratch Southern fried chicken at its easiest. Crispy and juicy, it's sure to be a family favorite. There's also no need for a long marinade in buttermilk, so you don't have to plan ahead.
The two-part batter simply consists of dredging the chicken in a milk and egg mix, then giving it a quick shake in seasoned flour. This dish calls for bone-in pieces—however, other recipes use boneless chicken breasts or boneless chicken thighs with equally delicious results.
Serve the chicken alongside mashed potatoes, coleslaw, creamed corn, or another vegetable side dish.
1 1/2

 

cups

 

milk

2

 

large

 

eggs

2 1/2

 

cups

 

all-purpose flour

2

 

tablespoons

 

salt

, plus additional for sprinkling

2

 

teaspoons

 

black pepper

4

 

pounds

 bone-in skin-on 

chicken 

pieces

Vegetable oil

, for frying
Gather the ingredients. Preheat the oven to 200 F and place a rack in a large baking pan.

In a medium bowl, combine the milk and eggs. Whisk to blend well.

In a large heavy-duty resealable plastic food storage bag, combine the flour, 2 tablespoons salt, and pepper. Seal and shake to combine.

Dip the chicken pieces in the milk and egg mixture and let excess drip off into the bowl. Set already dipped pieces aside on a plate until you have three or four.

Add the dipped chicken pieces to the bag of seasoned flour.

Seal the bag and shake well to coat the chicken pieces thoroughly.

Remove to a plate and repeat with the remaining chicken pieces.

Heat the oil in a deep, heavy skillet to 350 F. While it's heating up, set aside a large serving plate lined with paper towels.

Fry the chicken, a few pieces at a time, for about 10 minutes on each side, or until golden brown and thoroughly cooked. Be careful not to put too many chicken pieces in at once—even if they can comfortably fit—since this will dramatically drop the temperature of the oil, affecting the crispness of the final product. Note that chicken breasts will take a little less time than dark meat pieces.

With a slotted spoon, move the done chicken pieces onto the paper towel-lined platter to drain. Sprinkle immediately with salt.

Transfer the drained and seasoned chicken to the prepared pan with a rack. Keep warm in the preheated oven while frying subsequent batches. Depending on the size of your pan, this recipe will require about 3 to 4 batches.
Tips
If you're going to substitute the vegetable oil, make sure that it's suitable for deep-frying. Oils with a low smoke point will burn at the temperature this recipe requires and fill your kitchen with smoke rather than the tempting smell of fried chicken.
The best way to check for doneness is to use a meat thermometer. The minimum safe temperature for chicken is 165 F. Alternatively, you can pierce it with a fork to see if juices run clear.
Leftover fried chicken can be reheated with good results. Take the chicken out of the refrigerator and bring it to room temperature. Heat the oven to 400 F. Put the chicken pieces on a rack on top of a rimmed baking sheet and bake for about 15 to 20 minutes until heated through and crisp.
Recipe Variations
Buttermilk can replace the milk. Another version of Southern fried chicken soaks it in a buttermilk marinade for at least 6 hours. This ensures the chicken is juicy and can help the flour stick better.
Replace the milk with evaporated milk if you prefer.
Use a seasoned salt blend as a substitute for the salt and pepper.
Add more seasonings to the flour. Cajun seasoning is always a hit, and paprika, cayenne, and poultry seasoning are popular additions. You can also try the blend used in a copycat KFC chicken recipe.
Add about 1/2 cup of fine, dry breadcrumbs to the flour mixture.
Why Isn't My Fried Chicken Crispy?
Oil temperature is the main reason why fried chicken doesn't get crispy. If it's not warm enough, the chicken needs to cook longer and will get soggy from soaking up too much oil. When the oil is too hot you risk raw meat and burnt breading. Avoid crowding the pan and use a thermometer to monitor the oil temperature to ensure it stays close to 350 F at all times. It will fluctuate but if you stay ahead of it and adjust the burner accordingly, the chicken will cook properly.
Nutrition Facts 

(per serving)

1525
Calories
82g
Fat
65g
Carbs
123g
Protein