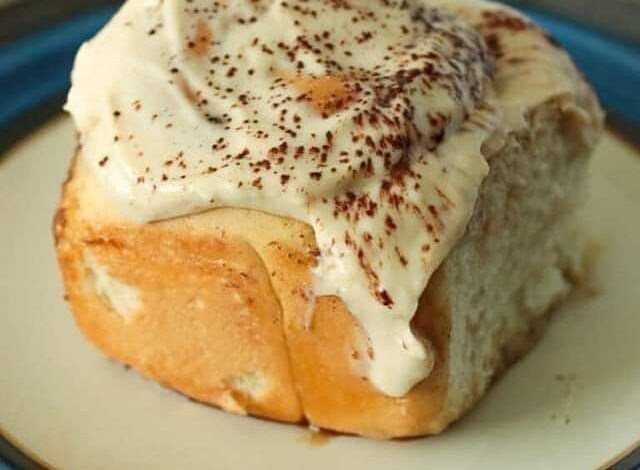 INGREDIENTS
For the Dough
¼ cup warm water (105-115 F)
2 ¼ tsp active dry yeast
¾ cup warm milk
1 large egg, lightly beaten
¼ cup sugar ( 50 grams)
¼ cup butter, melted (57 grams)
1 tsp salt
3 and ¾ cups all-purpose flour (470 grams), plus ¼ cup reserved (31 grams)
For the Filling
1/3 cup very soft and warm butter (75.6 grams)
½ cup brown sugar (100 grams)
2 tsp instant coffee granules
2 tsp cinnamon
Coffee Cream Cheese Icing
¼ cup softened butter ( 57 grams)
½ block cream cheese, softened (125 grams)
¾ cup powdered sugar
¾ cup whipping cream
1 tsp instant coffee granules
1 tsp hot water
cocoa powder, for dusting the buns
INSTRUCTIONS
In the bowl of a stand mixer, add the warm water. Sprinkle the yeast and about 1 teaspoon of the sugar. Let this stand for about 5-10 minutes, or until the mixture is thick and foamy.
Add the milk, egg, sugar, melted butter and salt. Stir everything with a wooden spoon until the egg is dispersed and the ingredients are incorporated.
Add half of the flour and stir with a wooden spoon until everything is combined. Add the remaining half and stir well.
Attach the dough hook to the mixer and knead the dough for 3-5 minutes, or until the dough starts to gather in the center of the bowl. If the dough is still very wet and loose, sprinkle up to ¼ cup of flour. The dough is ready once it cleans the sides of the bowl, and it is smooth.
Shape the dough into a ball and place it in a bowl. Allow it to rise for 1 ½ hours, covered with a clean towel.
Once risen, gently deflate and roll into a 1/4 inch thick rectangle. Combine brown sugar, cinnamon, and coffee granules in a small bowl. Smear the very soft, almost melted butter over the surface of the dough. Sprinkle the brown sugar mixture evenly all over the butter.
Starting on the long edge of the rectangle, roll the dough into a tight log. Pinch the seams to seal. Slice the log into 12 portions and arrange them on a parchment-lined 9×13 inch baking pan. Cover the pan loosely and allow the buns to rise for 1 hour, or until soft and puffy.
Bake the coffee cinnamon rolls at 350, F for 22-25 minutes, or until the tops are lightly browned. Allow the buns to cool completely then pour and slather the coffee cream cheese icing. Dust the top with cocoa powder for garnish.
How To Make the Coffee Cream Cheese Icing
Combine hot water and instant coffee granules and stir until lump-free. Allow this mixture to cool. In the bowl of a stand mixer, beat the butter, cream cheese, and icing sugar until combined and creamy.
With the mixer still running, pour the cream in a thin, steady drizzle into the bowl. Continue to beat until the mixture form soft peaks. Add the coffee mixture and beat until the mixture is thick but spreadable.
Notes