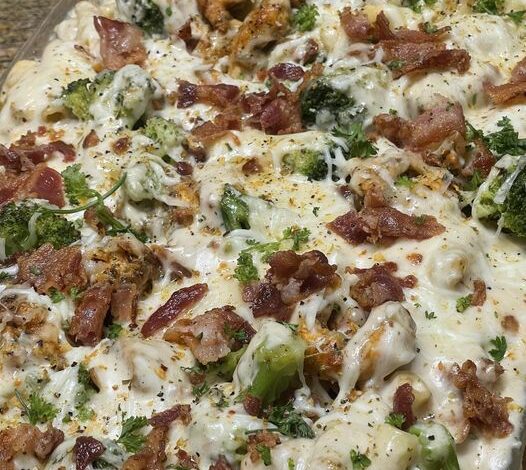 Prep Time:

10 minutes

Cook Time:

30 minutes

Total Time:

40 minutes

Yield:

6

 

Ingredients
1

 pound cooked chicken breasts, chopped

3

 bacon slices, cooked and crumbled

12 oz

 broccoli florets

2 tbsp

 butter

1

 small onion, chopped

2

 garlic cloves, minced

2 tbsp

 parsley, plus extra for serving

1 cup

 heavy cream

½ cup

 cream cheese

½ cup

 grated Parmesan cheese
salt and black pepper to taste
Instructions
Preheat oven to 400°F.
Add the chicken, broccoli and bacon to a baking dish.
Set aside.
Add the butter to a skillet and melt it over medium heat.
Add the onion and cook for 2-3 minutes.
Add the garlic and cook for 30 seconds.
Add the heavy cream and cream cheese and cook for 3-4 minutes or until the sauce starts to thicken and reduce.
Remove from the heat.
Stir in chopped parsley.
Season to taste with salt and black pepper.
Pour the sauce over the chicken and broccoli mixture.
Top with grated Parmesan.
Bake in preheated oven for 25-30 minutes or until the broccoli is tender and sauce is golden and bubbly.
Sprinkle with extra parsley and serve.