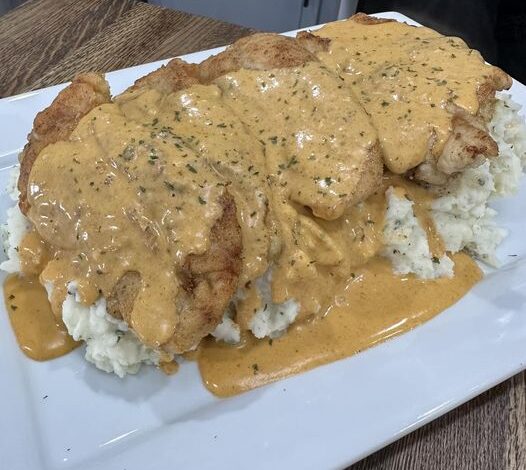 Prep Time: 20 MinCook Time: 20 MinTotal Time: 40 Min
These crispy pan-fried chicken breasts coated with a creamy gravy are quite literally the perfect comfort food. This is an easy dinner that you can make in one pan and it's delicious on its own or even better over a pile of mashed potatoes!
INGREDIENTS
1 lb chicken breast
Salt, pepper, and garlic powder
1 cup of flour
2 TBSP of butter
2 TBSP of olive oil
2 TBSP of minced garlic
2 TBSP of flour
1 cup of chicken broth
1 cup of heavy whipping cream
1/2 tsp each of salt and pepper
1 tsp each of garlic powder, smoked paprika, and onion powder
INSTRUCTIONS
Butterfly cut chicken breasts and season both sides of chicken with some salt, pepper, and garlic powder.
In a container combine 1 cup of flour with a little bit more salt, pepper, and garlic powder
Dredge chicken breast in flour/seasoning mixture.
Heat a skillet over medium heat and melt butter and olive oil.
Fry chicken in the skillet until both sides are golden brown and chicken reaches an internal temp of at least 165 degrees.
Remove the chicken from the skillet once cooked.
In the hot skillet combine minced garlic and flour.
Stir until that thickens, add chicken broth and heavy cream stirring continuously.
Add 1/2 tsp each of salt and pepper.
Add 1 tsp each of smoked paprika, garlic powder, and onion powder stirring constantly until smooth.
Pour over chicken and serve.
NOTES
I used smoked paprika for this recipe, but you could use regular paprika instead!
This was so good served over mashed potatoes with corn and salad!