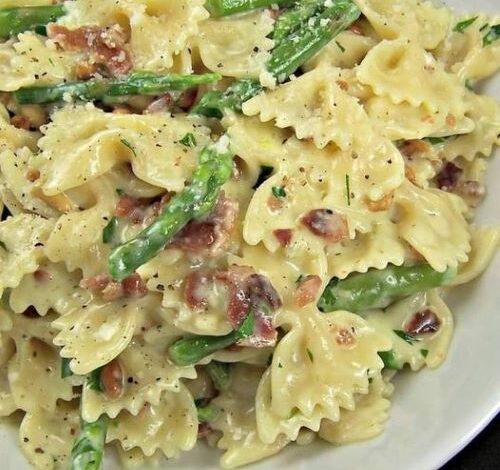 Ingredients:
8 ounces (about 225g) of your favorite pasta (such as fettuccine or penne)
1 bunch of fresh asparagus, trimmed and cut into 1-inch pieces
4-6 slices of bacon, chopped
1 cup (240ml) heavy cream
1/2 cup (120ml) chicken or vegetable broth
1 cup (about 100g) grated Parmesan cheese
2 cloves garlic, minced
Salt and black pepper, to taste
2 tablespoons olive oil
Fresh parsley or chives, for garnish (optional)
Instructions:
Start by boiling a large pot of salted water. Cook the pasta according to the package instructions until it's al dente. Just before draining, add the asparagus to the boiling water and cook for about 2-3 minutes until it's tender-crisp. Drain the pasta and asparagus and set them aside.
In a large skillet, cook the chopped bacon over medium heat until it becomes crispy. Remove the bacon with a slotted spoon and place it on paper towels to drain. Leave about 2 tablespoons of bacon fat in the pan.
In the same skillet with the bacon fat, add the minced garlic and sauté for about 30 seconds until fragrant.
Pour in the heavy cream and chicken or vegetable broth, and bring the mixture to a simmer. Let it simmer for about 2-3 minutes to thicken slightly.
Stir in the grated Parmesan cheese and continue to cook, stirring, until the cheese is fully melted and the sauce becomes creamy and smooth.
Season the sauce with salt and black pepper to taste. Keep in mind that the bacon and Parmesan cheese are already salty, so be careful not to over-salt the dish.
Add the cooked pasta and asparagus to the skillet with the creamy sauce. Toss everything together so that the pasta and asparagus are well coated in the sauce.
Finally, sprinkle the crispy bacon over the top of the dish, and give it a gentle stir to incorporate the bacon.
Garnish the creamy pasta with fresh parsley or chives if desired.
Serve hot and enjoy your creamy pasta with asparagus and bacon!
This dish is a delightful combination of flavors and textures. The creaminess of the sauce, the freshness of the asparagus, and the smoky crunch of the bacon all come together to create a satisfying meal.