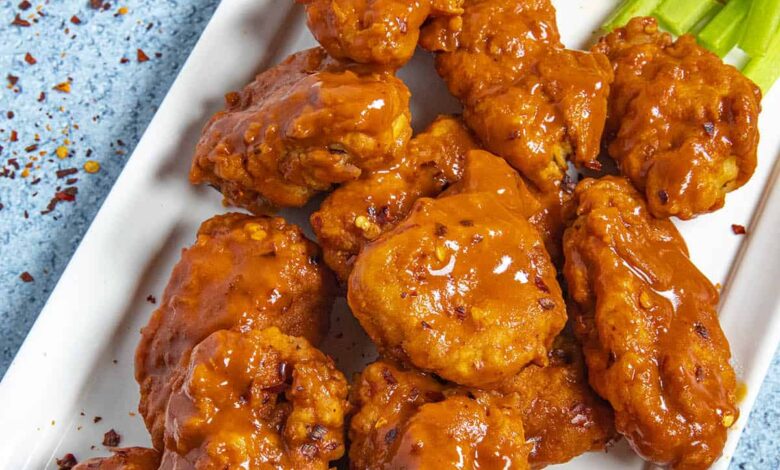 INGREDIENTS
• 3 boneless (skinless chicken breast, cut into 3-inch pieces)
• 1 bottle of oil (for deep frying)
• 1 cup white all-purpose flour
• 1/2 teaspoon salt
• 1/4 teaspoon ground black pepper
• 1/2 teaspoon cayenne pepper
• 1/2 teaspoon paprika
• 1/4 teaspoon garlic powder
• 1/4 teaspoon onion powder
• 1 egg (beaten)
• 1 cup whole milk
SAUCE
• 1/4 cup hot pepper sauce
• 1 tablespoon butter
INSTRUCTIONS
1. Slice the chicken into thicker pieces and set them aside.
2. You need enough oil for deep frying, independence of the saucepan you are using, it should be enough so the chicken pieces don't sink to the bottom of the pot and should be covered in oil.
3. Add the oil to a deep-fryer or large saucepan and heat it up to 375°F / 190°C.
4. Use a kitchen thermometer to measure the temperature.
5. In a small bowl, combine flour, salt, black pepper, cayenne pepper, paprika, garlic powder and set aside.
6. In another small bowl, whisk together egg and milk. Set aside.
7. Cover a baking sheet with parchment paper or foil. Set aside.
8. Dip each piece of chicken in the egg mixture, then roll it in the seasoned flour mixture. Place on the prepared baking sheet.
9. Repeat so each piece of chicken is double-coated.
10. Refrigerate breaded chicken for 20-30 minutes.
11. Working in batches, so the saucepan is not over-crowded, fry chicken until golden brown, about 5 to 6 minutes per batch.
SAUCE
12. In another small bowl, combine hot sauce and butter and microwave on High until melted for about 20-30 seconds.
13. Pour sauce over cooked chicken and mix to coat.