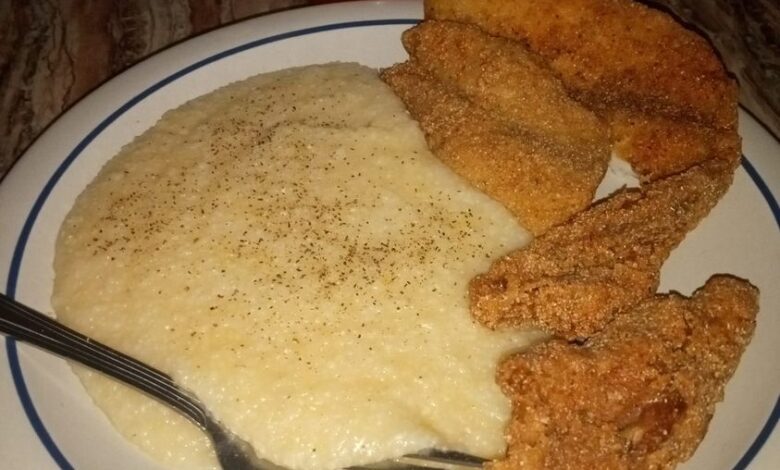 Ingredients:
For the Fish:
4 to 6 catfish fillets (or any firm white fish)
1 cup buttermilk
1 cup cornmeal
1/2 cup all-purpose flour
1 teaspoon salt
1/2 teaspoon black pepper
1/2 teaspoon paprika
Vegetable oil for frying
For the Grits:
1 cup stone-ground grits
4 cups water
1 cup milk
2 tablespoons butter
Salt and black pepper to taste
For the Tartar Sauce:
1 cup mayonnaise
2 tablespoons sweet pickle relish
1 tablespoon finely chopped onion
1 tablespoon lemon juice
1 teaspoon Dijon mustard
Salt and black pepper to taste
Instructions:
Start by preparing the tartar sauce. In a small bowl, combine mayonnaise, sweet pickle relish, chopped onion, lemon juice, Dijon mustard, salt, and black pepper. Mix well and refrigerate until ready to use.
To make the grits, bring water and salt to a boil in a medium-sized saucepan. Slowly stir in the grits and reduce the heat to low. Cook the grits for about 30 minutes, stirring occasionally to prevent sticking.
In the meantime, rinse the catfish fillets and pat them dry with paper towels. Season both sides of the fish with salt and black pepper.
In a shallow dish, combine the cornmeal, flour, salt, black pepper, and paprika. Mix well. Dip each fish fillet in buttermilk and then dredge it in the cornmeal mixture, coating both sides evenly.
Heat vegetable oil in a large skillet or deep fryer to about 350°F (175°C). Carefully place the coated fish fillets into the hot oil and fry until golden brown and crispy, usually about 4-5 minutes per side. Cook the fish in batches to avoid overcrowding the skillet.
Once the fish is done, transfer it to a plate lined with paper towels to drain excess oil.
While the fish is frying, finish preparing the grits. Stir in the milk and butter into the cooked grits. Continue cooking for another 5 minutes until the grits are thick and creamy. Adjust the seasoning with salt and black pepper according to taste.
Serve the crispy fish fillets on a bed of creamy grits and accompany them with a dollop of tartar sauce on the side.
Enjoy your delicious soul food fish and grits!