Soul Food
Grilled nacho burgers with a con queso cheese sauce and pico de gallo,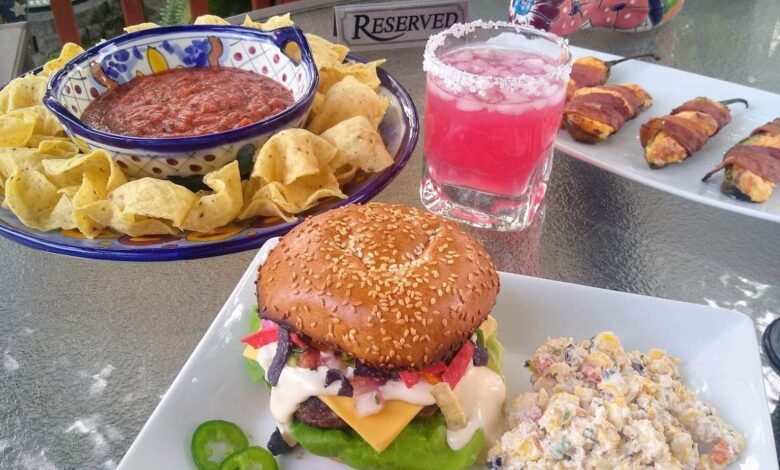 Ingredients
Pic de gallo:
1 tablespoon lime juice
2 roma tomatoes, finely diced
½ red onion, finely diced
1 jalapeño, diced
½ cup fresh cilantro, roughly chopped
2 cloves garlic, minced
1 pinch ground cumin, or to taste
salt and ground black pepper to taste
Cheese Sauce:
1 tablespoon unsalted butter
1 tablespoon all-purpose flour
1 1/2 cups milk
1/2 pound Monterey Jack cheese, shredded
2 tablespoons freshly grated pecorino cheese
Salt
Freshly ground pepper
Burgers:
1 pound ground beef
Vegetable oil, for brushing
Salt and freshly ground pepper
4 hamburger buns, split and toasted
4 slices of jalapeño cheese
Fresh bibb lettuce
Sliced pickled jalapeños and blue corn tortilla strips, for topping
Instructions
For the Pico de Gallo:
In a bowl, combine all of the ingredients and season with salt.
For the Cheese Sauce:
In a saucepan, melt the butter. Stir in the flour and cook over moderate heat for 30 seconds. Whisk in the milk and cook, whisking, until thickened, 5 minutes. Stir in the Jack cheese until melted, then stir in the pecorino; season with salt and pepper. Let cool until spreadable.
For the Burgers:
Light a grill. Form the beef into 4 patties and brush with oil; season with salt and pepper. Grill over moderately high heat until browned outside and medium within, 4 minutes per side. Place the burgers on the buns, top with the cheese sauce, pico de gallo, jalapeños and tortilla strips, and serve.
For the Mexican Street Corn (Elotes):
Ingredients
4 ears fresh corn on the cob husked
3 tbsp vegetable oil
3 tbsp mayonnaise
2 tbsp sour cream
1 jalapeño, seeded and chopped
2 sweet baby bells, chopped
juice of 1 lime
1 tsp chili powder
1 tsp cumin
½ tsp cayenne pepper
½ cup cotija cheese
¼ cup cilantro chopped
Instructions
Preheat the grill to high heat. Brush the corn with vegetable oil and grill until slightly charred, about 3 minutes per side. Remove and let cool. Once cool, cut off the kernels and place into a large mixing bowl.
Add remaining ingredients to the corn and stir to combine. Season with salt and pepper to taste.
For the Jalapeño Poppers:
Ingredients
6-8 Jalapeño, deseeded and sliced lengthwise
8 ounces of cream cheese, softened
1/2 cup shredded cheddar cheese
1/4 teaspoon garlic powder
1/8 teaspoon onion powder
6 slices of bacon, thinly cut
salt and pepper to taste
Instructions
Cut the jalapenos in half, remove the stems, and remove the seeds and membranes. The more membrane you leave, the spicier the jalapenos will be.
Add cream cheese, shredded cheddar cheese, garlic powder, onion powder, salt, and pepper in a bowl. Mix to combine.
Using a small spoon, scoop the cream mixture into each jalapeno filling it just to the top.
Preheat air fryer to 350 degrees for about 3 minutes.
Cut each slice of bacon in half.
Wrap each jalapeno half in one piece of bacon.
Place the bacon-wrapped stuffed jalapenos in the air fryer in an even layer making sure they do not touch.
Air fry at 350 degrees for 14-16 minutes, until bacon is thoroughly cooked.
Enjoy immediately or refrigerate for up to 3 days, reheating before eating.