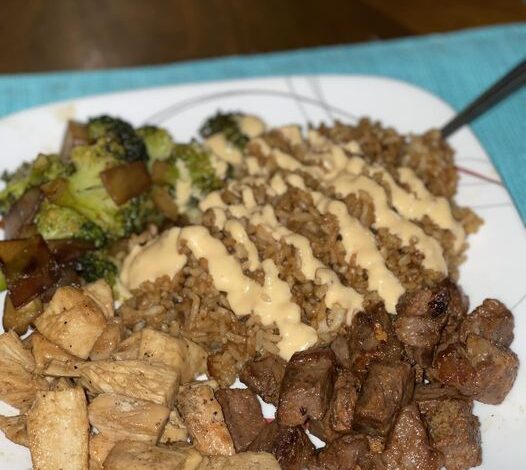 Hibachi chicken and fried rice is a popular Japanese meal and is very authentic. It is typically served with a side of fried rice and sauteed vegetables. The rice is cooked in the same skillet as the chicken, so you can prepare the fried and the chicken at the same time. In the meantime, you can prepare the sauce by putting shredded chicken on the spit, carrots, and soy sauce on top of the chicken. You can also add soy sauce, lemon juice, and salt to the fried rice.
Equipment
Rice cooker
Skillet
Pan
Large wok
Ingredients
For chicken
1 ½

 

pounds

 

boneless chicken breast

 

sliced thinly into bite-sized pieces (may be substituted with beef, pork, or seafood)

1

 

tablespoon

 

vegetable oil

½

 

teaspoon

 

sesame oil

1

 

tablespoon

 

butter

3

 

tablespoons

 

soy sauce

2

 

teaspoons

 

fresh lemon juice Salt and pepper

 

to taste
For med rice
2

 

tablespoons

 

vegetable oil

½

 

teaspoon

 

sesame oil

1

 

small 

white onion

 

chopped

1

 

cup

 

bean sprouts

2

 

large 

eggs

 

beaten Salt and pepper, to taste

4

 

cups

 

rice

 

cooked, preferably chilled for a few hours or overnight

4

 

tablespoons

 

butter

1

 

teaspoon

 

garlic powder

3

 

tablespoons

 

soy sauce

 

or to taste

1

 

tablespoon

 

sake

 

optional
Instructions
Prepare all the ingredients in advance and have them lined up for quick succession in cooking and to maximize the use of heat and flavors in the pan or skillet, which serves as your "hibachi" or grill.

Break the chilled rice apart using your hands or a large spoon, to separate the grains. Set it aside.

Heat a large heavy skillet or large wok over medium-high heat.
For chicken
Pour the vegetable and sesame oils in the pan.

Add the chicken and toss with a spatula while adding the butter, soy sauce, lemon juice, salt, and pepper. Continue sauteing the chicken until it is cooked through (about 6-8 minutes).

Transfer the chicken to a serving dish and reserve the skillet (do not clean) for the next dish. The oils and seasonings left on the skillet from the chicken will add to the overall flavor of the next dish. Keep it warm and follow immediately with the next dish. You may need to scrape off charred bits, if any.
For fried rice
With the same skillet used previously, warm the oils.

Add the chopped onion and saute until almost tender (about 3-4 minutes).

Add the bean sprouts and continue sauteing (about 2 minutes).

Move onions and bean sprouts to the side of the pan and add the eggs, mixing to scramble as you add them, and seasoning lightly with salt and pepper.

Add the rice, butter, and garlic powder, and continue stirring for about 5 minutes. Use a shoveling motion to mix.

Add the soy sauce and sake and continue cooking, mixing constantly (about 1 to 2 minutes). Adjust the taste with more salt and pepper or soy sauce, as needed.

This may be followed with hibachi vegetables and sprouts.
Notes
Then, serve the chicken and fried-rice mixture over the rice
Nutrition
Serving: 
4
servings
 | 
Calories: 
573
kcal
 | 
Carbohydrates: 
49
g
 | 
Protein: 
48
g
 | 
Fat: 
19
g
 | 
Saturated Fat: 
4
g
 | 
Polyunsaturated Fat: 
8
g
 | 
Monounsaturated Fat: 
5
g
 | 
Trans Fat: 
1
g
 | 
Cholesterol: 
193
mg
 | 
Sodium: 
1760
mg
 | 
Potassium: 
846
mg
 | 
Fiber: 
1
g
 | 
Sugar: 
3
g
 | 
Vitamin A: 
206
IU
 | 
Vitamin C: 
5
mg
 | 
Calcium: 
68
mg
 | 
Iron: 
2
mg