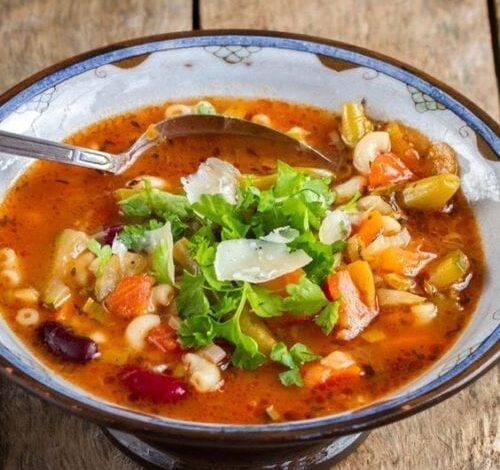 Ingredients:
1 tablespoon olive oil (4 SmartPoints)
1 medium onion, chopped
2 cloves garlic, minced
2 carrots, chopped
2 celery stalks, chopped
1 zucchini, chopped
1 yellow squash, chopped
1 can (15 oz) diced tomatoes (0 SmartPoints for plain canned tomatoes, check for added sugar)
1 can (15 oz) kidney beans, drained and rinsed (0 SmartPoints)
6 cups vegetable broth (0 SmartPoints for low-sodium vegetable broth)
1 teaspoon dried basil
1 teaspoon dried oregano
1 teaspoon dried thyme
1 cup small pasta (e.g., small shells or elbow macaroni; choose a whole wheat or low SmartPoints pasta)
Salt and pepper to taste
2 cups fresh spinach, chopped
Grated Parmesan cheese for topping (optional, points will vary)
Instructions:
In a large pot, heat the olive oil over medium heat. Add the chopped onion and garlic. Sauté for a few minutes until they become translucent.
Add the chopped carrots, celery, zucchini, and yellow squash to the pot. Sauté for about 5 minutes or until the vegetables start to soften.
Stir in the diced tomatoes, kidney beans, vegetable broth, dried basil, dried oregano, and dried thyme. Bring the mixture to a boil.
Reduce the heat to low and let the soup simmer for about 20-25 minutes, or until the vegetables are tender.
While the soup is simmering, cook the small pasta in a separate pot according to the package instructions. Drain and set aside.
Once the vegetables in the soup are tender, add the cooked pasta and chopped spinach. Simmer for an additional 2-3 minutes until the spinach wilts.
Season the soup with salt and pepper to taste. Adjust the seasoning as needed.
Serve the Vegetarian Minestrone Soup hot. You can top it with grated Parmesan cheese if desired, but be sure to account for the extra SmartPoints.