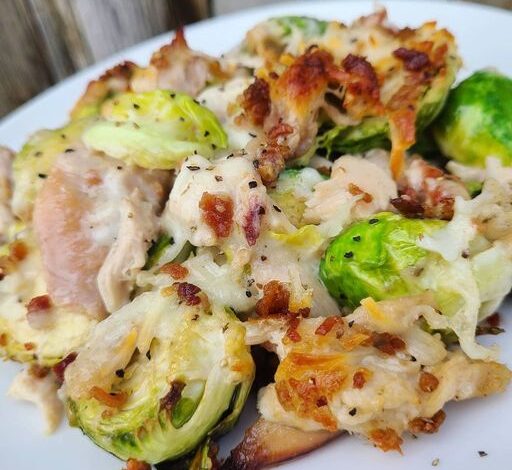 Ingredients:
4 boneless, skinless chicken breasts
1 pound Brussels sprouts, trimmed and halved
1/2 cup Caesar salad dressing (make sure it's low-carb and keto-friendly)
1/2 cup grated Parmesan cheese
1/2 cup shredded mozzarella cheese
2 cloves garlic, minced
2 tablespoons olive oil
1 teaspoon dried thyme
1 teaspoon dried rosemary
Salt and pepper to taste
Fresh chopped parsley for garnish (optional)
Instructions:
Preheat your oven to 400°F (200°C). Grease a baking dish large enough to fit the chicken breasts and Brussels sprouts.
Season the chicken breasts with salt and pepper on both sides. Set them aside.
In a large bowl, combine the halved Brussels sprouts, minced garlic, olive oil, dried thyme, dried rosemary, salt, and pepper. Toss everything together until the Brussels sprouts are coated with the oil and seasonings.
Place the seasoned Brussels sprouts in the greased baking dish, spreading them out evenly.
In the same bowl, pour in the Caesar salad dressing. Dip each seasoned chicken breast into the dressing, coating it well on both sides. Place the chicken breasts on top of the Brussels sprouts in the baking dish.
Sprinkle grated Parmesan cheese over the chicken breasts and then top with shredded mozzarella cheese.
Cover the baking dish with foil and bake in the preheated oven for about 25 minutes.
Remove the foil and continue baking for an additional 15-20 minutes or until the chicken is cooked through (internal temperature reaches 165°F/74°C) and the cheese is bubbly and slightly golden.
Once done, remove from the oven and let it rest for a few minutes.
Garnish with fresh chopped parsley if desired, and serve the Keto Caesar Chicken & Brussels Bake hot.
This flavorful and hearty dish is a great keto-friendly option for a satisfying dinner. Enjoy!