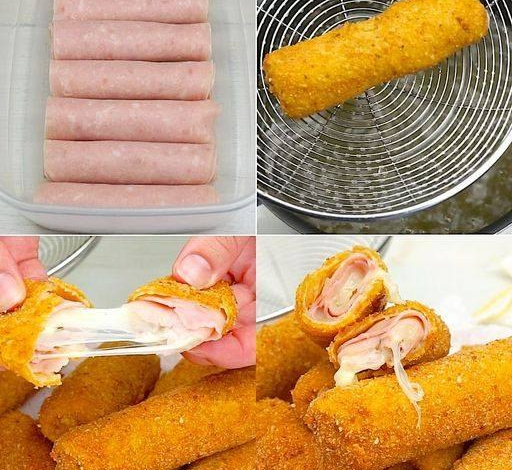 Ingredients:
8 thin slices of ham
4 ounces cream cheese, softened
1/4 cup grated Parmesan cheese
1/4 cup chopped green onions
1/4 teaspoon garlic powder
1/4 teaspoon onion powder
Salt and pepper to taste
1/4 cup crushed pork rinds (optional, for extra crispiness)
Instructions:
Preheat your oven to 375°F (190°C).
In a mixing bowl, combine the softened cream cheese, grated Parmesan cheese, chopped green onions, garlic powder, onion powder, salt, and pepper. Mix until well combined.
Lay out the slices of ham on a clean surface. If using crushed pork rinds, spread them out on a separate plate.
Spread a thin layer of the cream cheese mixture onto each slice of ham.
Roll up each ham slice tightly, making sure the cream cheese mixture is enclosed.
If using crushed pork rinds, gently roll the ham rolls in the crushed pork rinds to coat the outside.
Place the rolls on a baking sheet lined with parchment paper or a silicone baking mat.
Bake in the preheated oven for about 12-15 minutes, or until the edges of the ham are slightly crispy.
Allow the rolls to cool for a few minutes before serving.
Optional: You can serve these rolls with a low-carb dipping sauce of your choice, such as a garlic aioli or a spicy mustard.
Enjoy your Keto Crispy Ham Rolls! They make a delicious and satisfying low-carb snack or appetizer.