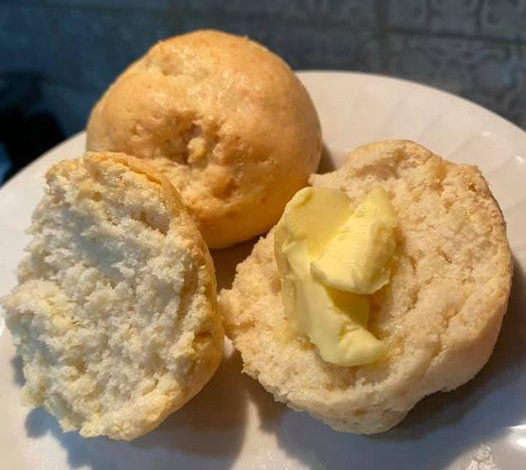 Ingredients:
For the Biscuit Dough:
2 cups almond flour
1/4 cup coconut flour
1/4 cup psyllium husk powder
2 teaspoons baking powder
1/2 teaspoon salt
1/2 cup unsalted butter, cold and cubed
4 large eggs
1/4 cup sour cream
For Filling and Topping (Optional):
Butter or sugar-free jam (for filling)
Additional butter (for brushing on top)
Instructions:
Preheat your oven to 350°F (175°C). Line a baking dish with parchment paper.
In a large mixing bowl, combine almond flour, coconut flour, psyllium husk powder, baking powder, and salt.
Add the cold, cubed butter to the dry ingredients. Use a pastry cutter or your fingers to work the butter into the flour mixture until it resembles coarse crumbs.
In a separate bowl, whisk together the eggs and sour cream.
Pour the egg mixture into the flour mixture and stir until a dough forms. It may be slightly sticky.
Place the dough onto a piece of parchment paper and use your hands to shape it into a rectangle, about 1/2 inch thick.
If you're adding a filling, spread a thin layer of butter or sugar-free jam over the surface of the dough.
Roll the dough into a log, starting from one end. Use the parchment paper to help you roll it up tightly.
Slice the log into individual rolls, about 1 inch thick.
Place the rolls into the prepared baking dish, leaving some space between them.
Optional: Brush the tops of the rolls with melted butter for added flavor.
Bake in the preheated oven for about 20-25 minutes, or until the rolls are golden brown and cooked through.
Allow the rolls to cool slightly before serving.
These keto-friendly biscuit rolls are versatile and can be enjoyed on their own or with your favorite low-carb toppings. They're perfect for breakfast or as a side dish for any meal. Enjoy!