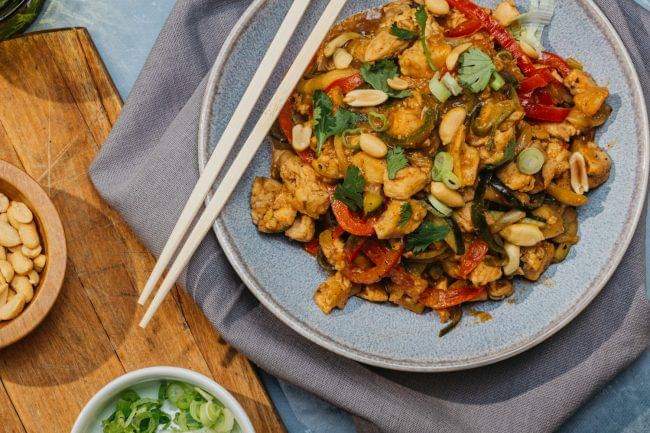 Ingredients:
NOODLES
8 oz packet Tofu Shirataki Fettuccine
4 oz chicken thigh
1 large Egg
1 tbsp coconut oil
1/4 cup carrot(optional)
1/4 cup Green Bell Pepper
1/4 cup Onion
1/4 cup peanuts
2 tbsp green onions
SAUCE
1 tbsp liquid aminos
1 tbsp rice wine vinegar
1 tsp Low Carb Sugar Substitute
1/2 tbsp chili garlic sauce
Instructions:
1- Drain Shirataki noodles and heat in a pan over medium-high heat for 10 minutes. Set aside.
2- Thinly slice carrot, bell pepper and onion. Set aside.
3- Slice up chicken thigh in long pieces like the vegetables. Heat coconut oil in a pan and cook chicken fully through.
4- Add sliced vegetables to chicken and heat through for 3-5 minutes. Add egg and scramble together with chicken and vegetables.
5- Add noodles to the chicken and vegetables.
6- Combine all ingredients in sauce and pour over the noodle mixture.
7- Mix well. toss in peanuts and green onions. Serve warm and enjoy!