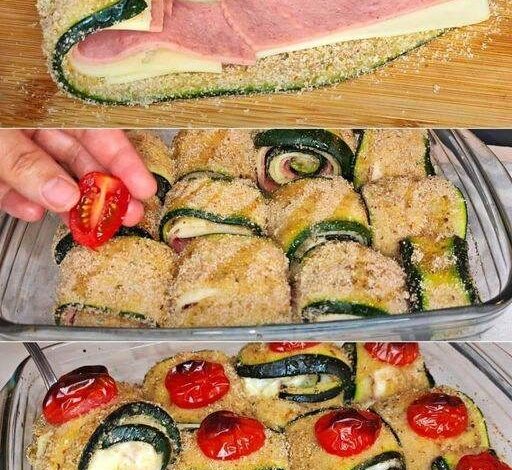 Ingredients:
For the zucchini rolls:
2 medium zucchinis
8 oz (225g) cream cheese, softened
1/4 cup grated Parmesan cheese
1 tablespoon chopped fresh basil
1 tablespoon chopped fresh parsley
1 clove garlic, minced
Salt and pepper to taste
For the tomato sauce:
1 1/2 cups sugar-free tomato sauce or crushed tomatoes
1/2 teaspoon dried oregano
1/2 teaspoon dried basil
Salt and pepper to taste
Instructions:
Prepare the Zucchini:

Wash the zucchinis and slice them lengthwise into thin strips using a mandoline or a sharp knife. Aim for slices about 1/4 inch thick.
Lay the zucchini slices on paper towels to remove excess moisture. This will prevent the rolls from becoming too watery.

Prepare the Filling:

In a bowl, mix together the softened cream cheese, grated Parmesan cheese, chopped basil, chopped parsley, minced garlic, salt, and pepper until well combined.

Assemble the Zucchini Rolls:

Lay a zucchini slice flat and spread a thin layer of the cream cheese mixture onto it.
Carefully roll up the zucchini slice, starting from one end, to form a tight roll.
Repeat this process with the remaining zucchini slices and filling.

Prepare the Tomato Sauce:

In a separate bowl, mix together the sugar-free tomato sauce or crushed tomatoes, dried oregano, dried basil, salt, and pepper.

Arrange in Baking Dish:

Pour a thin layer of the tomato sauce onto the bottom of a baking dish.
Place the stuffed zucchini rolls seam-side down into the baking dish.

Bake:

Spoon some more tomato sauce over the top of the zucchini rolls.
Cover the baking dish with aluminum foil and bake in a preheated oven at 350°F (175°C) for about 25-30 minutes, or until the zucchini is tender.

Serve:

Carefully remove the stuffed zucchini rolls from the baking dish and place them on serving plates.
Spoon extra tomato sauce over the top before serving.
Enjoy your Keto Stuffed Zucchini Rolls! This dish combines the fresh flavors of zucchini with a creamy and flavorful filling, all topped with a savory tomato sauce. It's a great option for a keto-friendly appetizer or main dish. Feel free to customize the herbs and seasonings to your taste.