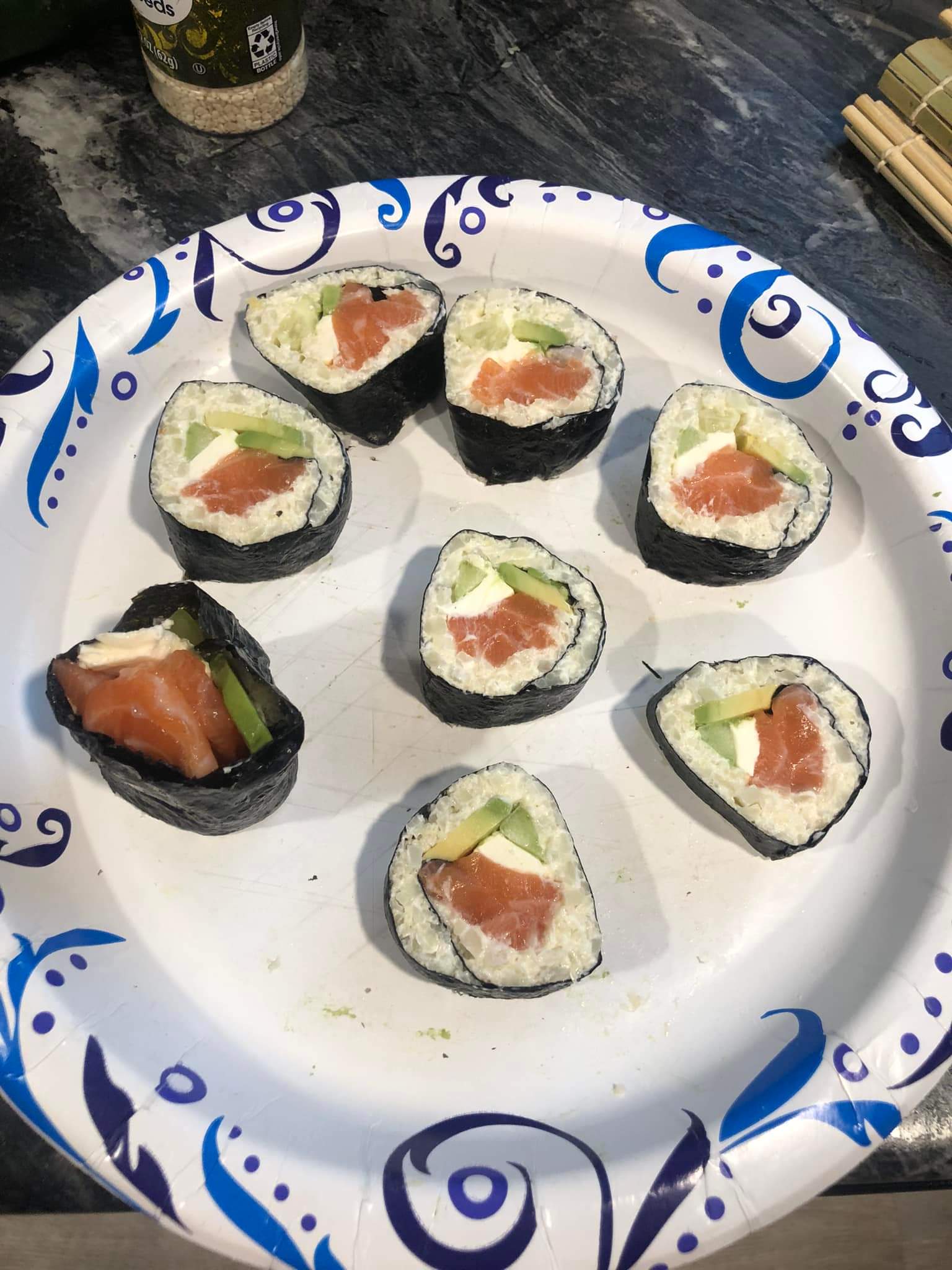 Ingredients:
For the rice-
1 pound of Cauliflower rice- fresh or frozen
1-2 tablespoons of unseasoned rice vinegar
1/2-1 teaspoon of Keto sweetener
4 nori sheets
5 oz cream cheese
Sushi filling:
Sushi-grade salmon, tuna, etc.
I used salmon and tuna!
Avocado
Cucumber
Cream cheese
Directions:
1. Break the cauliflower into florets and place into your food processor. Blend into a fine rice. (If using fresh)
2. Place a large nonstick frying pan over medium-high heat and add the riced cauliflower. Cook for 7-10 minutes until the cauliflower is tender.
3. Place the warm cauliflower into a bowl along with the cream cheese, vinegar, and sweetener. Mix well and place into the fridge to cool completely – around 30 minutes.
4.Whilst the rice is cooling, prepare the filling.
For Salmon Avocado; slice the salmon, avocado, cream cheese, and cucumber.
5. Place a nori sheet onto a sushi mat, shiny side down, and top with a quarter of the cooled cauliflower rice mix.
Spread the rice evenly onto the sheet, leaving a 1-2in gap at one end.
6. Add a line of your chosen filling ingredients and roll firmly, until you reach the edge of the rice, sprinkle some water on the end of the sheet and finish rolling. Use the sushi mat to firm up the roll.
7. Cut the roll into about 8 slices and enjoy!
One roll is about 4 net carbs!