Vegan
Kimchi Mac and Shells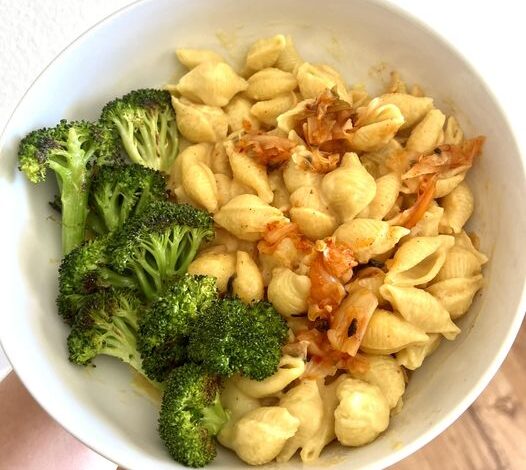 Ingredients:
8 ounces macaroni or small pasta shells
2 cups shredded cheddar cheese
1 cup shredded mozzarella cheese
1 cup kimchi, drained and chopped
1/2 cup kimchi juice (from the kimchi jar)
1/4 cup unsalted butter
1/4 cup all-purpose flour
2 cups milk
1/4 teaspoon garlic powder
1/4 teaspoon onion powder
1/4 teaspoon paprika
Salt and pepper to taste
Chopped green onions (optional, for garnish)
Instructions:
Cook the pasta: Bring a large pot of salted water to a boil and cook the macaroni or pasta shells according to the package instructions until al dente. Drain the pasta and set it aside.
Preheat the oven: Preheat your oven to 350°F (175°C).
Prepare the cheese sauce: In a medium saucepan, melt the butter over medium heat. Stir in the flour and cook for about 1-2 minutes, until it forms a smooth paste (roux). Gradually whisk in the milk, making sure to get rid of any lumps. Cook the sauce, stirring constantly, until it thickens and starts to bubble. Reduce the heat to low.
Add the cheeses: Stir in the shredded cheddar and mozzarella cheese, a little at a time, until they melt and the sauce becomes creamy. Mix in the garlic powder, onion powder, paprika, salt, and pepper. Adjust the seasoning to your taste.
Combine with kimchi: Add the chopped kimchi and kimchi juice to the cheese sauce. Stir well to incorporate the kimchi evenly into the sauce.
Mix the sauce with pasta: Add the cooked pasta to the cheese and kimchi sauce. Stir until the pasta is well coated with the sauce and kimchi.
Bake in the oven: Transfer the kimchi mac and shells mixture to a greased oven-safe baking dish. Spread it out evenly. If desired, sprinkle some additional shredded cheese on top for a crispy finish.
Bake the dish in the preheated oven for about 20-25 minutes or until the cheese on top is golden and bubbly.
Serve and garnish: Once it's done baking, remove the dish from the oven. Let it cool slightly before serving. Optionally, you can garnish it with chopped green onions for extra freshness and color.
Enjoy your flavorful and comforting Kimchi Mac and Shells! It's a unique twist on the classic mac and cheese recipe with a spicy and tangy kick from the kimchi. Perfect for those who enjoy a fusion of flavors.