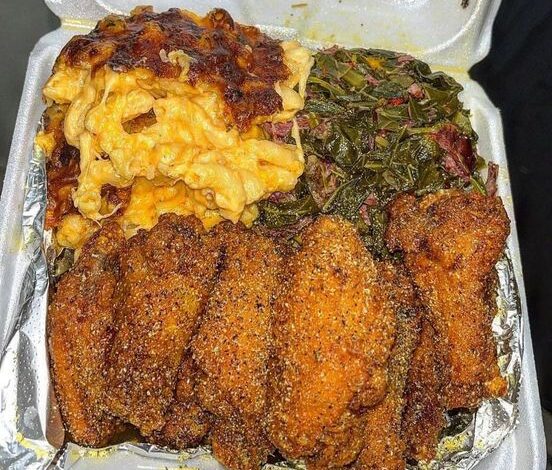 These Crispy Lemon Pepper Wings are juicy chicken wings fried to golden brown perfection then tossed in a sweet, spicy and lemony honey glaze!  They are the perfect appetizer for your next game day gathering and they will keep you coming back for more.
Ingredients
For the Wings
4

 

tsp

 

seasoned salt

1/2

 

tsp

 

black pepper

1/4

 

tsp

 

cayenne pepper

1 1/2

 

tsp

 

lemon pepper

1/2

 

tsp

 

garlic powder

1/2

 

tsp

 

paprika

1

 

tbsp

 

cornstarch

1 1/4

 

cup

 

all purpose flour

3

 

large eggs

1

 

tsp

 

hot sauce

2.5

 

lb

 

party wings

Vegetable oil for frying
For the Lemon Pepper Glaze
1/4

 

cup

 

unsalted butter

 

melted

a pinch of black pepper

3/4

 

tsp

 

lemon pepper

4

 

tbsp

 

honey

2

 

tsp

 

fresh lemon juice

lemon pepper

 

for garnish
Instructions
Add salt, pepper, cayenne, lemon pepper, garlic, paprika and cornstarch to flour in a storage bag or paper bag and shake to mix thoroughly.  Set aside.

Whisk together eggs and hot sauce in a medium sized bowl.

Working with one chicken wing piece at a time, use tongs and add to egg mixture thoroughly coating and allow the excess to drip back into the bowl. Next, dredge the chicken wing into the flour mixture then transfer to a plate or wire rack to set.

Repeat with all chicken pieces then let set for 15-20 minutes while you heat the oil.

Heat 3 inches of oil in a large deep pot to 350 degrees F.

When the oil is hot enough that it bubbles around the chicken when the edge of a piece is dripped into it, use tongs to gently and carefully place a few pieces in the oil. Make sure you don't overcrowd the pan.

Cook the chicken, turning the wing pieces every few minutes and adjusting the heat as needed, until the skin is golden brown and the chicken is firm to the touch. This should take about 7-10 minutes.

As chicken fries, prepare the glaze.  Whisk together butter, pepper, lemon pepper, honey and lemon juice until smooth.

Transfer the cooked chicken to a paper towel-lined serving platter and continue frying the rest, adding more oil to the pot if necessary.

As chicken wings are removed and placed on paper towels, dip them in lemon pepper glaze, sprinkle top with just a little lemon pepper and serve immediately.
Notes
To Bake
Sprinkle the spice blend only (no flour or cornstarch or egg will be used) on all sides of the wings then bake!
Preheat the oven to 425 degrees F and line a baking sheet with foil. Place a cooling rack on top of the foil and arrange the wings in a single layer on top.
Bake for 25-35 minutes or until crispy and cooked all the way through. Toss your wings in the glaze and serve!
To GrillSprinkle the spice blend only on the wings (no flour, cornstarch or egg is used here).  Oil your grill rack, preheat to medium heat (about 350) and grill your wings for about 12 minutes. Turn your wings occasionally to help slowly render the fat and cook the flesh without burning.
Increase the heat to medium-high and cook for another 5-10 minutes to ensure the meat is cooked through and the skin is lightly charred and crisp. Once done, toss your wings in the glaze and enjoy!
Nutrition
Calories: 
709
kcal
 | 
Carbohydrates: 
51
g
 | 
Protein: 
37
g
 | 
Fat: 
40
g
 | 
Saturated Fat: 
15
g
 | 
Cholesterol: 
271
mg
 | 
Sodium: 
2515
mg
 | 
Potassium: 
347
mg
 | 
Fiber: 
1
g
 | 
Sugar: 
18
g
 | 
Vitamin A: 
933
IU
 | 
Vitamin C: 
3
mg
 | 
Calcium: 
49
mg
 | 
Iron: 
4
mg