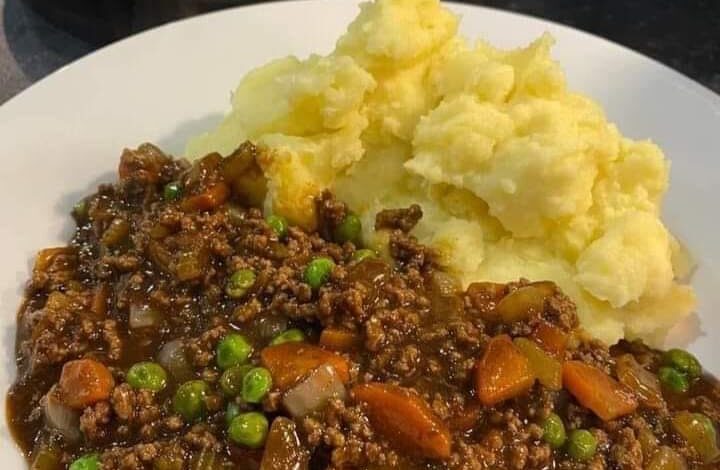 Learn how to make old fashioned Scottish Mince and Tatties – just like Granny used to make! It's a cheap, easy, nourishing and comforting meal the whole family will love.
INGREDIENTS
500g pack Minced beef (I usually go for one with a 10-15% fat content)
1 Oxo Beef Stock Cube
1 Large Onion, peeled and finely diced
2 Carrots, peeled and chopped into small dice
Around 400ml of beef gravy, made with bisto gravy powder OR beef stock
Salt and Pepper
1 tablespoon Worcestershire Sauce , Optional
INSTRUCTIONS
Place a large saucepan over a medium high heat and brown the mince, breaking it up with a fork to separate it. Crumble in the Oxo cube, add the onions and continue to cook on a high heat until the mince has browned and no traces of pink remain.
Add the diced carrots, the gravy or beef stock and the Worcestershire sauce, if using. Turn the heat to low-medium, pop on a lid and cook for at least an hour or until the mince is nice and soft and the gravy has thickened. Season to taste. That's all there is to it!
Cook your tatties, mash them with lots of butter (some people add milk but I don't usually bother) and season to taste with salt and pepper.
NUTRITION INFORMATION:
YIELD: 4 SERVING SIZE: 1
Amount Per Serving: CALORIES: 409TOTAL FAT: 23gSATURATED FAT: 9gTRANS FAT: 1gUNSATURATED FAT: 11gCHOLESTEROL: 105mgSODIUM: 1078mgCARBOHYDRATES: 13gFIBER: 2gSUGAR: 4gPROTEIN: 37g