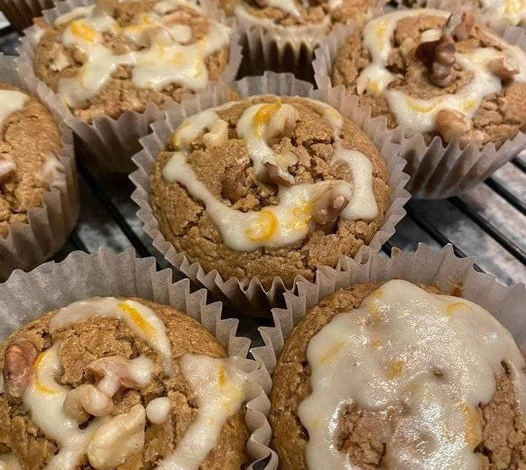 Total Time:

 

27 minutes

Yield:

 

6

 

1

x
After much mixing, and baking, and taste testing, I am here to tell you that it is true! My Miracle Muffins are just one or two Weight Watchers point each!
2

 large ripe bananas

2

 eggs, beaten

1/2 cup

 Kodiak high protein baking mix
---
Instructions
To make 6 Miraculous Muffins. Pre-heat oven to 350 degrees. Spray muffin tin with cooking spray.
Mash up 2 large, ripe banana with a fork. Mix in two beaten eggs. Stir in a ½ cup of any of the Kodiak Power Cake mixes listed above.
Spoon mixture into six of the prepared muffin cups. Bake for 22-25 minutes, until the muffins look dry on top and are turning slightly golden brown.  (Note that Miracle Muffins will have a denser texture than some standard muffin recipes.)  Remove tin from oven and allow muffins to cool before removing from tin.
That's all there is to it! 2 bananas. 2 eggs. Half a cup of baking mix. Eighteen minutes later, you'll have a half-dozen hot, delicious, guilt-free muffins! See what I mean? Miraculous!
Notes
Variations:
Peanut Butter Cup Muffins – Add 1 T peanut butter to the Dark Chocolate Muffin recipe. This will add half a point to each muffin, but you can still enjoy two muffins for just 3 points. Not bad!
Double Blue Muffins – Add ½ cup frozen blueberries to the Blueberry Lemon Muffin recipes. My favorite of the variations I tried! Still just one point per muffin!
Almond Apricot Muffins – Prior to baking, put a scant teaspoon of Polaners Preserves, Apricot, with Fiber in the center of each filled muffin tin. The apricot center is a delectable little surprise when you bite. Still just one point per muffin!
Chocolate Decadence Muffins – Add ½ cup frozen raspberries to the Dark Chocolate Muffin recipes. Still just one point per muffin!