keto recipes
Mouthwatering Keto Cinnamon And Cream Cheese Winwheels!!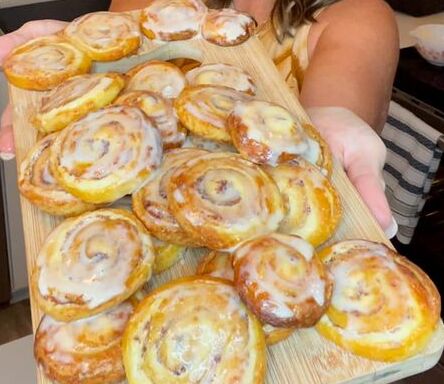 Ingredients:
For the dough:
2 cups almond flour
2 tablespoons coconut flour
1/4 cup powdered erythritol or your preferred keto-friendly sweetener
1 teaspoon baking powder
1/4 teaspoon salt
2 large eggs
2 tablespoons unsalted butter, melted
1 teaspoon vanilla extract
For the filling:
4 ounces cream cheese, softened
2 tablespoons powdered erythritol or your preferred keto-friendly sweetener
1 teaspoon ground cinnamon
Instructions:
Preheat your oven to 350°F (175°C) and line a baking sheet with parchment paper.
In a large bowl, whisk together the almond flour, coconut flour, powdered erythritol, baking powder, and salt.
Add the eggs, melted butter, and vanilla extract to the dry ingredients. Mix well until a dough forms. If the dough is too sticky, you can refrigerate it for about 10-15 minutes to make it easier to handle.
Place the dough between two sheets of parchment paper and roll it out into a rectangle about 1/4 inch thick.
In a small bowl, mix together the softened cream cheese, powdered erythritol, and ground cinnamon until well combined.
Spread the cream cheese filling evenly over the rolled-out dough, leaving a small border around the edges.
Starting from one of the longer edges, carefully roll the dough into a tight log, like a jelly roll.
Using a sharp knife, slice the log into approximately 1-inch thick pinwheels.
Place the pinwheels on the prepared baking sheet, leaving some space between each one.
Bake the pinwheels in the preheated oven for about 12-15 minutes or until they are lightly golden.
Remove the pinwheels from the oven and let them cool on the baking sheet for a few minutes before transferring them to a wire rack to cool completely.
These Keto cinnamon and cream cheese pinwheels make a delightful and satisfying treat for your keto-friendly dessert or snack options. Enjoy them warm or at room temperature! Store any leftovers in an airtight container in the refrigerator.