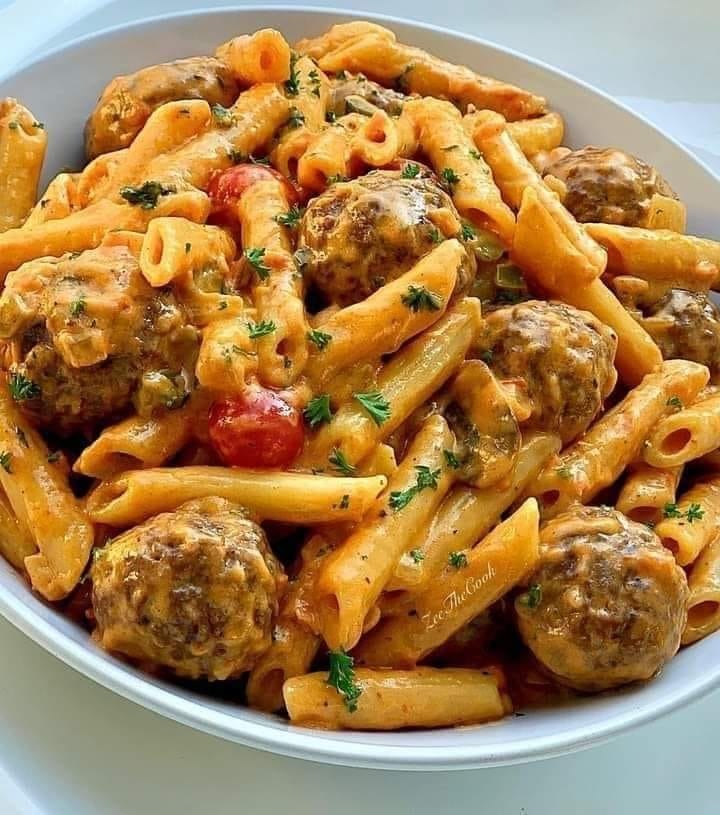 Ingredients for meatballs:
1 lb ground beef
1/2 cup breadcrumbs
1/4 cup grated parmesan cheese
1 egg, lightly beaten
2 cloves garlic, minced
1 tbsp chopped fresh parsley
1 tsp dried oregano
1 tsp salt
1/2 tsp black pepper
Ingredients for pasta:
1 lb penny pasta
1 tbsp olive oil
1 small onion, chopped
2 cloves garlic, minced
1 can (28 oz) crushed tomatoes
1/2 tsp dried basil
1/2 tsp dried oregano
Salt and pepper, to taste
Grated parmesan cheese, for serving
Directions:
Preheat the oven to 400°F.
In a large bowl, mix together the ground beef, breadcrumbs, parmesan cheese, egg, garlic, parsley, oregano, salt, and black pepper.
Shape the mixture into small meatballs, about 1 inch in diameter.
Place the meatballs on a baking sheet lined with parchment paper.
Bake the meatballs in the preheated oven for 20-25 minutes, until they are browned and cooked through.
While the meatballs are cooking, bring a large pot of salted water to a boil.
Add the penny pasta to the boiling water and cook according to the package directions until al dente.
In a large skillet, heat the olive oil over medium-high heat.
Add the chopped onion and garlic to the skillet and sauté until they are softened.
Stir in the crushed tomatoes, dried basil, and dried oregano. Season with salt and pepper to taste.
Add the meatballs to the skillet and stir to coat them with the sauce.
Drain the cooked penny pasta and add it to the skillet with the meatballs and sauce.
Toss everything together until the pasta is coated with the sauce and the meatballs are evenly distributed.
Serve the penny pasta and meatballs hot, garnished with grated parmesan cheese. Enjoy!