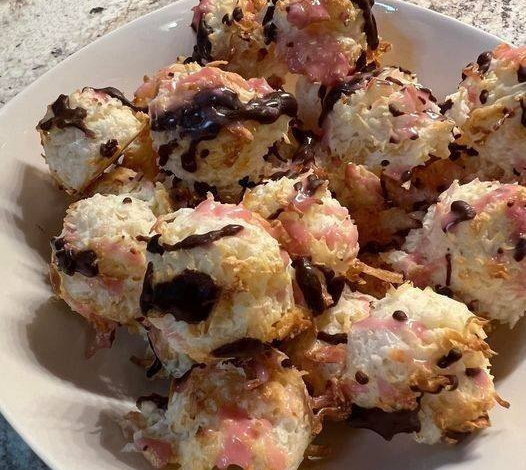 Ingredients:
2 cups unsweetened shredded coconut
1/2 cup almond flour
1/2 cup erythritol or your preferred keto-friendly sweetener
1/4 cup unsweetened cocoa powder
1/4 teaspoon salt
1/3 cup coconut oil, melted
1/4 cup unsweetened almond milk
1 teaspoon vanilla extract
1/2 cup fresh raspberries
1/2 cup sugar-free chocolate chips
Instructions:
Preheat your oven to 325°F (160°C). Line a baking sheet with parchment paper.
In a large mixing bowl, combine the shredded coconut, almond flour, sweetener, cocoa powder, and salt. Mix well.
Add the melted coconut oil, almond milk, and vanilla extract to the dry ingredients. Stir until the mixture is well combined and forms a sticky dough.
Gently fold in the fresh raspberries and chocolate chips, being careful not to crush the raspberries.
Using a cookie scoop or your hands, form the mixture into compact mounds and place them on the prepared baking sheet.
Bake in the preheated oven for about 20-25 minutes, or until the macaroons are golden brown around the edges.
Allow the macaroons to cool on the baking sheet for a few minutes, then transfer them to a wire rack to cool completely.
Optional: You can drizzle melted sugar-free chocolate over the cooled macaroons for an extra decadent touch.
These Raspberry Chocolate Coconut Macaroons are a delightful keto-friendly treat. Enjoy the combination of tart raspberries and rich chocolate with the sweet coconut base!