Vegan
Red lentil curry and basmati rice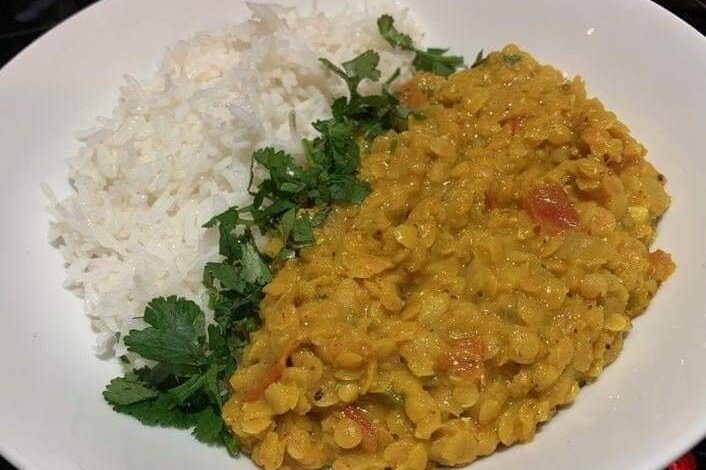 Ingredients
300 g red lentils
400 ml coconut milk
200 g basmati rice
2 white onions
2 cloves garlic
2 large tomatoes
1 tablespoon coriander seeds
3 cardamom pods
1 tsp paprika
1 tsp garam masala
1 tsp turmeric powder
1 tbsp olive oil
2 green chillis
METHOD
Begin by dry toasting the cardamon pods and coriander seeds for a few minutes and then put them into a pestle and grind them into a spice mix and pout to one side (if in a hurry then just use ready ground coriander and cardamom)
finely chop the white onions and green chillies
heat a tablespoon of olive olive in a sauté pan and add the onions and the green chilli, cook gently for several minutes stir into the pan the paprika, turmeric and garam masala,
finely chop two large tomatoes and add to the pan and stir and allow to cook for a few minutes
Rinse the red lentils until the water runs clear (you really need to do this, google why) add then to the pan and stir in.
Add the tin of coconut cream to the pan, using the tin, fill it with water and add to the pan and stir.
cook on a medium low heat for 12 mins
stirring occasionally to make sure its not sticking to the bottom.
Rinse the basmati rice several times to remove the excess starch.
place in a pan and twice as much water as rice and coo on a medium low heat for 12 mins
after 12 mins check the condition of the rice and if ready take off the heat and put into a sieve and allow to drain and steam for 5 mins.
serve by plating up a bowl with half with the rice and half curry and a sprinkle of fresh coriander.