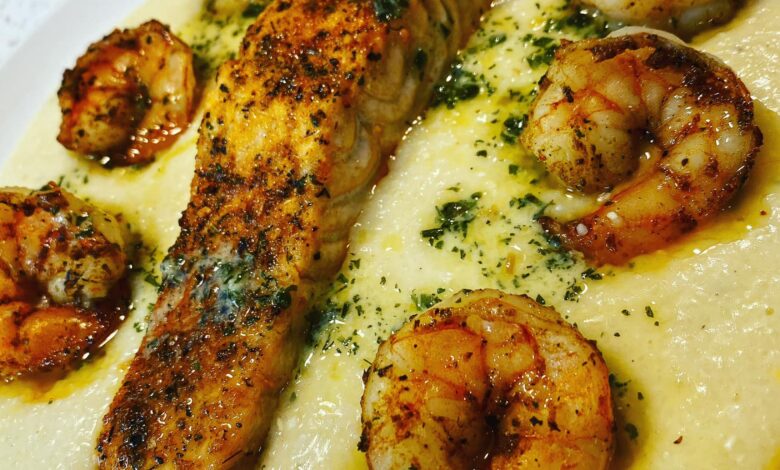 Ingredients:
2 salmon fillets
1/2 pound shrimp, peeled and deveined
1 cup stone-ground grits
4 cups water or chicken broth
1 cup milk
4 tablespoons unsalted butter
1/2 cup shredded cheddar cheese
1/4 cup chopped green onions
2 cloves garlic, minced
1 tablespoon Cajun seasoning
Salt and pepper to taste
Lemon wedges (for serving)
Instructions:
Prepare the grits by bringing water or chicken broth to a boil in a saucepan. Stir in the grits and reduce the heat to low. Cook the grits according to the package instructions, usually around 30-40 minutes, stirring occasionally to prevent sticking.
In a separate skillet, melt 2 tablespoons of butter over medium heat. Add the minced garlic and cook until fragrant, about 1 minute.
Season the salmon fillets and shrimp with Cajun seasoning, salt, and pepper. Place the seasoned salmon fillets in the skillet and cook for about 4-5 minutes per side, or until the salmon is cooked through and flakes easily with a fork. Remove the salmon from the skillet and set aside.
In the same skillet, add the shrimp and cook for 2-3 minutes per side until pink and cooked through. Remove the shrimp from the skillet and set aside.
In the saucepan with the cooked grits, stir in the milk, remaining butter, shredded cheddar cheese, and chopped green onions. Cook over low heat until the cheese melts and the grits become creamy. Season with salt and pepper to taste.
To serve, spoon a generous portion of the creamy grits into a bowl or plate. Top with a salmon fillet and a few shrimp. Squeeze fresh lemon juice over the top for added flavor.
Serve the salmon and shrimp over grits while hot, and enjoy!
This recipe combines the heartiness of the salmon and shrimp with the creamy comfort of the grits, making it a delicious soul food meal.