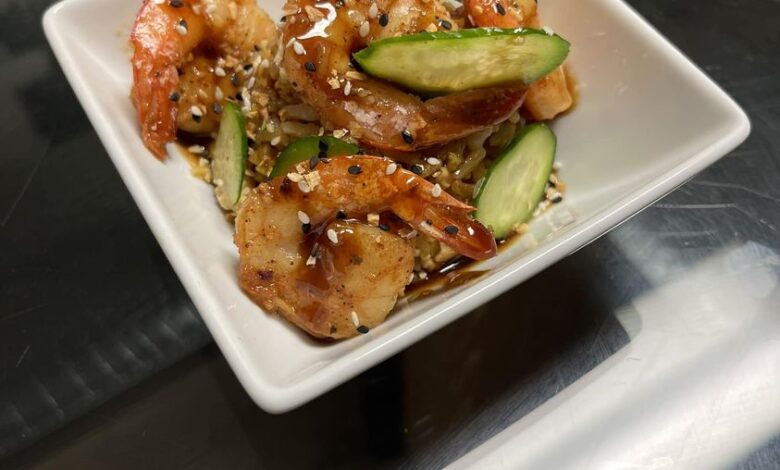 Ingredients:
1 pound large shrimp, peeled and deveined
2 tablespoons vegetable oil
1 onion, finely chopped
1 bell pepper, finely chopped
2 celery stalks, finely chopped
3 cloves garlic, minced
1 cup long-grain white rice
2 cups chicken broth
1 can (14.5 ounces) diced tomatoes, undrained
1 teaspoon paprika
1/2 teaspoon dried thyme
1/4 teaspoon cayenne pepper (optional, for heat)
Salt and pepper to taste
Chopped green onions or parsley for garnish
Instructions:
In a large skillet or Dutch oven, heat the vegetable oil over medium heat. Add the chopped onion, bell pepper, and celery, and sauté for about 5 minutes until the vegetables are tender.
Add the minced garlic to the skillet and sauté for an additional minute until fragrant.
Add the rice to the skillet and stir well to coat it in the oil and vegetables. Cook for 2-3 minutes, stirring occasionally, until the rice starts to become lightly golden.
Pour in the chicken broth and diced tomatoes with their juice. Stir in the paprika, dried thyme, and cayenne pepper (if using). Season with salt and pepper to taste.
Bring the mixture to a boil, then reduce the heat to low. Cover the skillet with a tight-fitting lid and simmer for about 15 minutes or until the rice is tender and the liquid is absorbed. Avoid stirring the rice during cooking to prevent it from becoming sticky.
While the rice is cooking, season the shrimp with salt and pepper. In a separate skillet, heat a small amount of vegetable oil over medium-high heat. Add the shrimp to the skillet and cook for about 2-3 minutes per side until they are pink and cooked through. Remove from heat.
Once the rice is cooked, fluff it with a fork. Gently fold in the cooked shrimp, incorporating them into the rice mixture.
Serve the shrimp and rice hot, garnished with chopped green onions or parsley.
Enjoy your Shrimp and Rice!