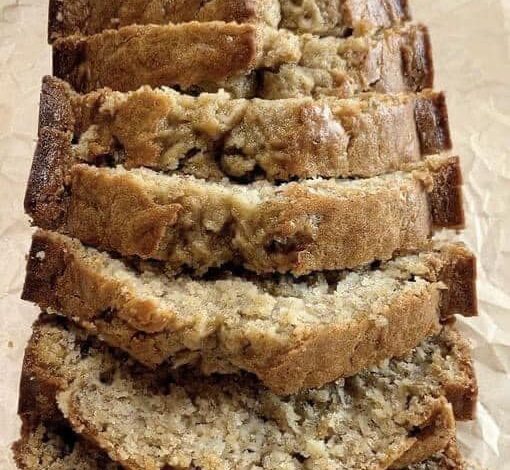 Ingredients:-
1 1/2 cup self rising flour (I use Gold Medal)
1 tsp baking powder
1 tsp baking soda
3 ripe bananas, medium-large
1 egg
2 tsp vanilla extract
2 Tbsp brown sugar substitute ( I use Lakanto Golden Sweetener)
3 Tbsp white sugar substitute ( I use Lakanto Classic Sweetener)
2 Tbsp. Land o' lakes made with canola oil light butter melted or 3 Tbsp of unsweetened applesauce
Instructions:-
Preheat oven to 350 degrees and spray bread pan (9×5 or 8×4)or a 12 muffin tin with non stick cooking spray
In a large mixing bowl add bananas and use a fork to mash well.
Whisk in the egg, vanilla, brown sugar and white sugar substitute. Stir well.
In a separate bowl combine, self rising flour, baking powder and soda. Stir until well incorporated.
Gradually add dry ingredients into the wet ingredients as you stir. Before the two are completely incorporated add in melted butter. Stir just until barely combined.
DO NOT OVER MIX. (The number one tip is to not over mix or it will ruin the texture)
Pour into pan and bake for 30-45 minutes or (18-20 minutes if making muffins) or until an inserted knife or toothpick comes out clean.