Soul Food
Smothered baked chicken with jasmine rice and sautéed asparagus.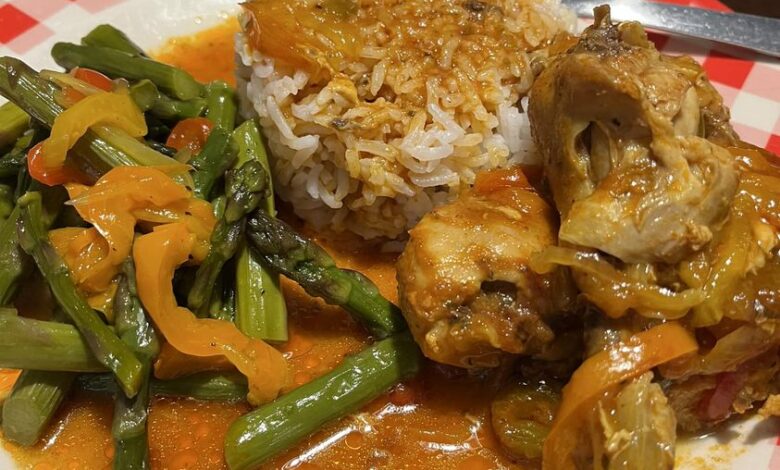 Ingredients:
4 bone-in, skin-on chicken thighs
1 tablespoon vegetable oil
1 onion, finely chopped
2 cloves garlic, minced
2 tablespoons all-purpose flour
2 cups chicken broth
1 teaspoon dried thyme
1 teaspoon paprika
1/2 teaspoon salt
1/4 teaspoon black pepper
1 cup jasmine rice
2 cups water
1 bunch asparagus, trimmed
2 tablespoons butter
Salt and pepper to taste
Instructions:
Preheat your oven to 375°F (190°C).
Season the chicken thighs with salt and pepper. Heat the vegetable oil in a large oven-safe skillet over medium-high heat. Add the chicken thighs, skin-side down, and cook for about 5 minutes until the skin is golden brown. Flip the chicken thighs and cook for an additional 3 minutes. Remove the chicken from the skillet and set aside.
In the same skillet, add the chopped onion and minced garlic. Sauté for 2-3 minutes until the onion becomes translucent.
Sprinkle the flour over the onions and garlic, and stir well to combine. Cook for another minute to cook out the raw flour taste.
Slowly pour in the chicken broth while whisking continuously to prevent lumps. Add the dried thyme, paprika, salt, and black pepper. Bring the mixture to a simmer and cook for 2-3 minutes until it thickens slightly.
Return the chicken thighs to the skillet, skin-side up, and spoon some of the gravy over the top. Place the skillet in the preheated oven and bake for about 35-40 minutes until the chicken is cooked through.
While the chicken is baking, prepare the jasmine rice. In a medium saucepan, combine the rice and water. Bring to a boil, then reduce the heat to low, cover, and simmer for about 15 minutes or until the rice is tender and the water is absorbed. Fluff the rice with a fork.
For the sautéed asparagus, heat a separate skillet over medium heat. Add the butter and let it melt. Add the trimmed asparagus and sauté for about 5-6 minutes until they are tender-crisp. Season with salt and pepper to taste.
Once the chicken is done, remove it from the oven and let it rest for a few minutes. Serve the smothered baked chicken over a bed of jasmine rice, with the sautéed asparagus on the side. Pour some of the gravy from the skillet over the chicken before serving.
Enjoy your  food feast of smothered baked chicken with jasmine rice and sautéed asparagus!