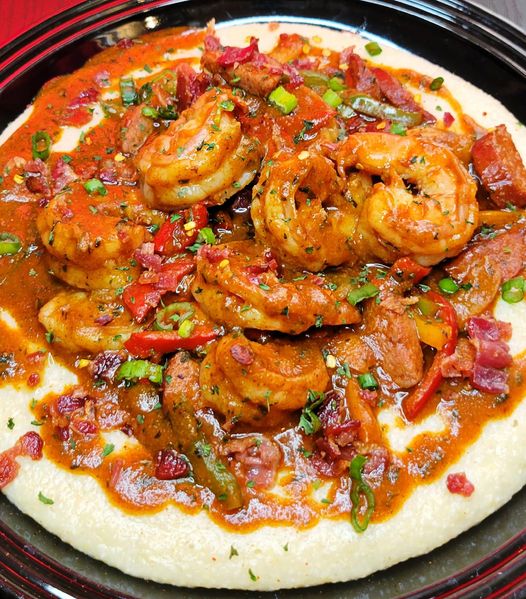 Ingredients:
For the grits:
1 cup stone-ground grits
4 cups water
1 cup whole milk
2 tablespoons unsalted butter
Salt and pepper to taste
1 cup shredded cheddar cheese
For the shrimp:
1 pound medium-sized shrimp, peeled and deveined
4 slices bacon, chopped
1 small onion, diced
1 green bell pepper, diced
2 cloves garlic, minced
1 cup chicken or vegetable broth
1 tablespoon Cajun seasoning
1 tablespoon hot sauce (optional)
Salt and pepper to taste
Fresh parsley, chopped, for garnish
Instructions:
In a medium saucepan, bring the water to a boil. Slowly whisk in the grits and reduce the heat to low. Cook the grits, stirring occasionally, for about 30 minutes or until they become thick and creamy.
In a separate skillet, cook the bacon over medium heat until it becomes crispy. Remove the bacon from the skillet and set it aside on a paper towel-lined plate.
In the same skillet with the bacon drippings, add the diced onion and green bell pepper. Sauté them until they become tender and translucent.
Add the minced garlic to the skillet and cook for an additional minute.
Add the shrimp to the skillet and cook until they turn pink and are cooked through, about 3-4 minutes.
Pour in the chicken or vegetable broth, Cajun seasoning, and hot sauce (if using). Stir well and let the mixture simmer for a few minutes to allow the flavors to meld together. Season with salt and pepper to taste.
Once the grits are cooked, stir in the milk, butter, salt, and pepper. Cook for an additional 2-3 minutes until the mixture is smooth and creamy. Remove from heat and stir in the shredded cheddar cheese until melted.
To serve, spoon a generous portion of the creamy grits onto a plate or bowl. Top with the shrimp and vegetable mixture. Sprinkle with crispy bacon and chopped fresh parsley for garnish.
Serve the Southern Shrimp & Grits while hot and enjoy the comforting flavors of this classic soul food dish.
Enjoy your Southern Shrimp & Grits!