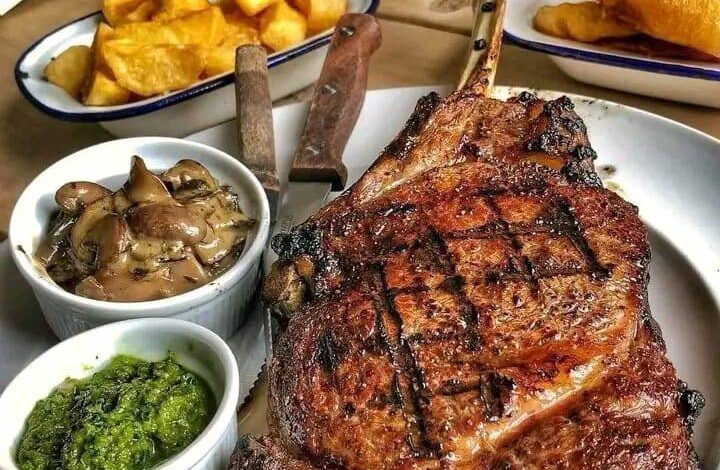 Ingredients:
4 beef steaks (such as ribeye or sirloin)
1 cup all-purpose flour
1 teaspoon paprika
1 teaspoon garlic powder
1 teaspoon onion powder
1 teaspoon salt
1/2 teaspoon black pepper
1/2 cup vegetable oil
1 large onion, thinly sliced
2 cloves of garlic, minced
2 cups beef broth
1 tablespoon Worcestershire sauce
1/2 teaspoon dried thyme
1/2 teaspoon dried oregano
Salt and black pepper to taste
Instructions:
In a shallow dish, combine the flour, paprika, garlic powder, onion powder, salt, and black pepper. Mix well.
Pat the steaks dry with paper towels. Dredge each steak in the flour mixture, coating both sides evenly.
In a large skillet, heat the vegetable oil over medium-high heat. Add the steaks to the skillet and cook for about 4-5 minutes on each side, or until browned. Remove the steaks from the skillet and set aside.
Reduce the heat to medium and add the sliced onions to the skillet. Cook until they are caramelized and golden brown, stirring occasionally.
Add the minced garlic and cook for another minute.
Sprinkle the remaining flour mixture over the onions and garlic in the skillet. Stir well to combine and cook for a minute or two.
Slowly pour in the beef broth, stirring constantly to prevent lumps from forming.
Stir in the Worcestershire sauce, dried thyme, dried oregano, salt, and black pepper.
Return the steaks to the skillet, along with any juices that have accumulated. Spoon some of the gravy over the steaks.
Reduce the heat to low, cover the skillet, and let the steaks simmer in the gravy for about 1 to 1.5 hours, or until the meat is tender and the flavors have melded together. Stir occasionally and add more broth if needed to maintain the desired consistency.
Once the steaks are done, remove them from the skillet and let them rest for a few minutes.
Serve the smothered steaks with the gravy poured over the top. They go well with mashed potatoes, collard greens, or cornbread.
Enjoy your soulful Southern-style smothered steak! 😋