Soul Food
T-Bone steak with jumbo shrimp, loaded baked potato and fresh corn on the cob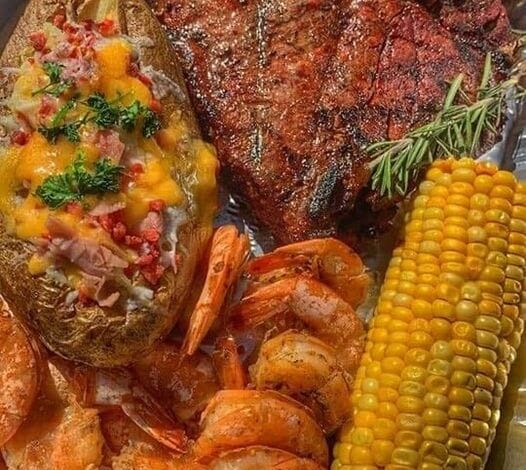 Ingredients:
1 T-bone steak, about 1 1/2 inches thick
6 jumbo shrimp, peeled and deveined
1 large baked potato
1/2 cup shredded cheddar cheese
2 tbsp butter
Salt and pepper, to taste
2 ears of corn on the cob, husked
Olive oil
Instructions:
Preheat your grill to high heat.
Season the steak generously with salt and pepper on both sides.
Brush the corn with olive oil and season with salt and pepper.
Place the steak on the grill and cook for 4-5 minutes per side for medium-rare, or longer if you prefer your steak more well done.
Add the corn to the grill and cook, turning occasionally, until charred and cooked through, about 10-15 minutes.
While the steak and corn are cooking, prepare the baked potato. Cut the potato in half and use a fork to fluff up the inside. Add 1 tbsp butter to each half and sprinkle with salt and pepper.
Top the potato halves with shredded cheddar cheese and return to the oven or microwave to melt the cheese.
In a separate pan, heat 1 tbsp butter over medium-high heat. Add the shrimp and cook until pink and cooked through, about 2-3 minutes per side.
Once everything is cooked, serve the steak, shrimp, corn, and loaded baked potato together on a plate.
Enjoy your delicious meal!