Uncategorized
Tea-Rubbed Filet Mignon Steaks with Buttery Mushrooms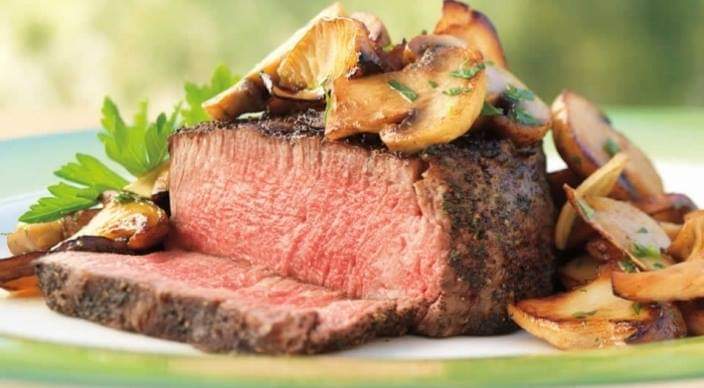 INGREDIENTS
PASTE
2 teaspoons (about 2 tea bags) Earl Grey tea leaves
1 teaspoon whole black peppercorns
1 teaspoon dried tarragon
1 teaspoon kosher salt
½ teaspoon dried thyme
3 tablespoons extra-virgin olive oil
4 filet mignon steaks, each about 8 ounces and 1½ inches thick, trimmed of excess fat
MUSHROOMS
½ pound button mushrooms
2 tablespoons unsalted butter
2 tablespoons extra-virgin olive oil
4 large garlic cloves, thinly sliced
¼ teaspoon kosher salt
1/8 teaspoon freshly ground black pepper
¼ cup roughly chopped fresh Italian parsley
1 teaspoon sherry or red wine vinegar
INSTRUCTIONS
In a spice mill, whirl the tea leaves, peppercorns, tarragon, salt, and thyme until finely ground. Pour the spice mix into a bowl, add the oil, and stir to make a paste.
Brush all sides of each filet with the paste. Let stand at room temperature for 15 to 30 minutes before grilling.
Before you grill the steaks, prepare the mushrooms and have all the other ingredients in place. Lay the mushrooms on their sides. Cut off a ¼-inch slice lengthwise, and then roll the mushrooms over so the flat sides are on your cutting board and the mushrooms no longer roll around. Then cut the mushrooms lengthwise into ¼-inch slices.
Prepare the grill for direct cooking over medium heat (350° to 450°F).
Brush the cooking grates clean. Grill the steaks over direct medium heat, with the lid closed as much as possible, until cooked to your desired doneness, 11 to 13 minutes for medium rare, turning once. Remove from the grill and let rest while you sauté the mushrooms.
In a 12-inch cast-iron skillet over high heat (on your grill's side burner or on your stove top), melt the butter with the olive oil. Add the mushrooms and spread them out in a single layer so that most of them are touching the bottom of the skillet. Cook the mushrooms without moving them for 2 minutes. Stir the mushrooms, and then add the garlic, salt, and pepper. Cook until the mushrooms are barely tender, 2 to 3 minutes, stirring 2 or 3 times. Add the parsley and vinegar. Mix well. Season to taste with salt and pepper, if needed. Spoon the hot mushrooms over the steaks.