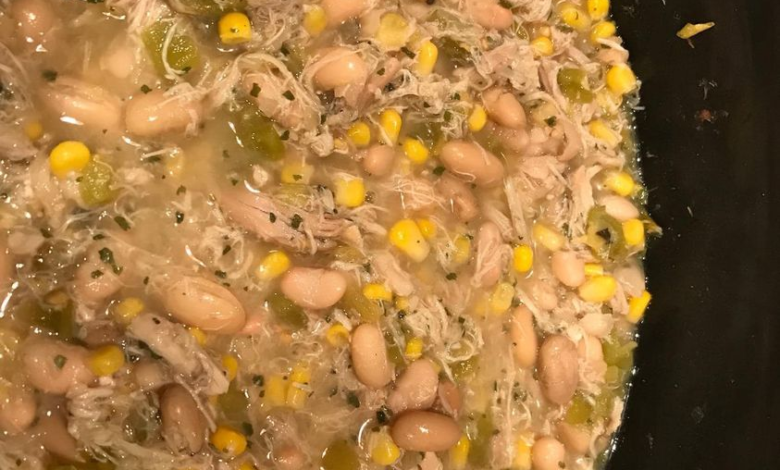 Ingredients
Ingredients
1 tablespoon olive oil or coconut oil
1 medium onion, chopped
2 garlic cloves, minced
2–3 cups shredded, cooked chicken (I pull mine off a store bought roasted chicken and save the carcass for homemade broth. I also save additional meat for salads or pizzas throughout the week!)
1/4 cup white wine or chicken broth
1 can (15-1/2 ounce) great northern beans, rinsed and drained
1 cup frozen corn
2 cups chicken broth
4 ounces fresh roasted and chopped green chilies (or 1 4oz can chopped green chilies)
2 teaspoons salt
1 teaspoon ground cumin
1 teaspoon dried oregano
1/2 teaspoon pepper
1/4 teaspoon cayenne pepper
7 oz plain greek yogurt
1/2 cup heavy whipping cream
Instructions
In a large soup pot over medium high heat, add the oil. Sauté the onion until translucent, about three minutes. Add the garlic and stir until fragrant, about 1 minute.
Add shredded rotisserie chicken. Stir together and then slowly pour in the white wine (or 1/4 cup chicken broth) using a wooden spoon to work up all the browned bits on the bottom of the pan to deglaze. Let sauté for another two minutes.
Add the beans, corn, broth, chilies and seasonings. Bring to a boil. Reduce heat; simmer, uncovered, for 20 minutes.
At this point you can taste and add any addtiinoal salt or pepper if needed and serve just like this. But for a super creamy chili:
Remove from the heat; stir in greek yogurt and cream. Serve!